Calling All Prospective Meet Leaders
The MCSA plans and conducts regular meets for the benefit of its members. These meets include property orientation meets, hiking meets of various levels of adventure, trad and sport climbing meets for beginners and advanced climbers, bouldering meets, and conservation meets.
This notice calls for members to make themselves available to act as primary or secondary meet leaders. Skills and first aid training will be afforded to these volunteers where applicable.
The club is a voluntary organisation and relies on active member involvement.
Ask not what the club can do for you, but what you can do for the club.
Kings Kloof Multi-Pitch Orientation Meet
Five eager-to-learn sport climbers joined Dirk Reinecke for an introduction to multi-pitch sport climbing at Kings Kloof.
Each participant was afforded the opportunity to lead "Seeds we sow", set up the anchor and belay from above as well as clean the route and complete the 50m abseil back down.
We hope to see everyone going for bigger and better out there in the world of multi-pitch sport climbing!
Thursday Hiking Group
The MCSA Magalies Thursday hiking group do weekly hikes in the Magaliesberg.
Our group varies from 2 – 20 (most often 8 – 10) people. Depending on abilities the group may split up. Hikes are typically 12km (8 – 18km). Members are from JHB & MAG sections (about 50/50), and although most are retired, anyone is welcome!
For more information, please contact:
Micky Richardson 061 922 3702 / Marietjie Louw 082 779 863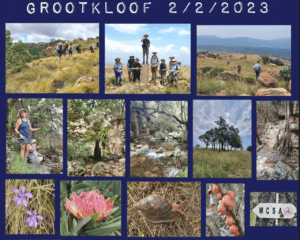 World Wetlands Conservation Meet
Thirteen (including two prospective members) joined this past weekend's, Conservation Meet.
We celebrated World Wetlands day immersing ourselves in the boggy stinky squelchy black goo that forms when organic matter is permanently saturated! Mmmm Yummy!
We tried a new weeding tool on the deep-rooted pompom that has ruined so many grasslands in the Cradle area. But the Castle Gorge Wetland will not be getting the same diagnosis.
Our biannual Meet at this particular spot has made the world of difference, the number of pompom are getting fewer and fewer! Weeding a success story!
We were luckily treated to a wonderful display from an adult chameleon, that was rather miffed with our in-your-face curiosity.
The Rangers tried their hand at packing rocks like a Boer War soldier. The wall's intention is to deter scramblers from making a detour around a locked gate to gain access to the property. Let's see if it works!
A very big thank you to all of those who attended.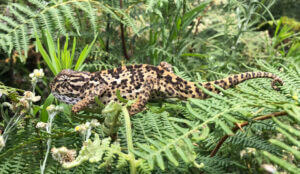 Access to Dome Pools – Closed
All parking at Dome Pools has been cancelled with immediate effect for permit holders and member. Our privilege to park there was revoked due to permit holders not signing the register, nor paying parking fees and then being rude to the landowner.
We are working on a solution and will keep you posted. For individuals who have already purchased permits for Dome Pools please contact Mag section (admin@mag.mcsa.org.za) with you full name, cellphone number and email address.For all our properties the rules are:
Members must have valid membership cards with them.
Re permit holders, the person/group to whom a permit has been issued must keep the permit on hand. The practical effect of this is that groups cannot split up.
Sign the register and pay for parking before you start hiking.
Always be friendly to the landowners – there is much more at stake than your ego.
Offenders and trespassers will be banned from MCSA properties.
Calabash, Dome Pools and Mhlabatini Parking Fee Increase
Please take note that the parking fee for Calabash, Dome Pools and Mhlabatini has increased from R40 to R60 per vehicle per day.
The parking fees for these areas are only payable in cash.
Calabash fees are paid across to the landowners who will come out to greet you on your arrival. For those looking for farm fresh produce, various items will be on sale. The landowners have also installed a fresh water tap in the parking area for our convenience.
Dome Pools fees are paid into the brown honesty box located to the left of the ladder crossing over the fence at the very beginning of the hike. Inside the box, you will also find the mountain register which is to be signed before leaving for your hike.
Mhlabatini fees are paid into the green honesty box located in the parking area. Inside the box, you will also find the mountain register which is to be signed before leaving for your hike.
We thank everyone for their continuous contribution to the parking fees and are very grateful to the landowners who so graciously allow us to utilise their property for the safekeeping of our vehicles and access control to our properties.
Lazy Day Crag in the Waterberg
A weekend of excellent weather, brilliant sends and great attendance was the name of the game at the newly discovered "Lazy day Crag" in the Waterberg.
The crag is located at Renosterpoort Farm owned run and loved by the Leroux family and is hidden in the forested edge of the upper reaches of the mighty Mokolo river. The lack of cell signal made for some challenging route finding but, late comers on Friday evening were met by friendly faces and a roaring bonfire at Dassie camp our home for the weekend.
Saturday and Sunday showed some High Psyche with 10 new routes being established and some great sending on old routes, Sarel and Roger alone taking down 4 and well done to Kat, Jess, Karine, Mel and Bennie for opening their first trad routes. Deep water soloing took a surprising second place in the activities and it was agreed that some means of floatation to get on the wall with dry shoes is the way forward well done to Sarel and Karine for finding a new way up. Bronze on the Podium was some impressive Hiking and route finding By Lesedi and Motsei with a possible variation and link up of two existing hiking routes.
All in all the weekend was a resounding success, we hope to see more people enjoying this secluded and beautiful area.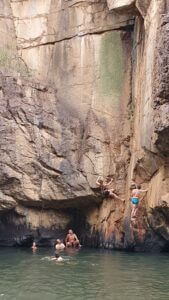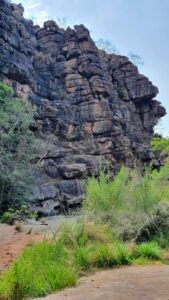 Photo Competition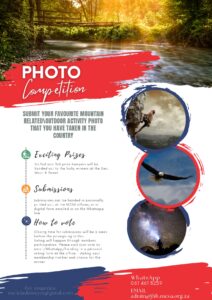 Thursday Hiking Group
Join our informal group of MCSA members for Magaliesberg day hikes on a Thursday.
The group is typically 8 – 10 people (can vary from 2 – 15). We might split up
depending on ability and preference. Hikes range from 8 – 18km (typically 12km).
Most of the group are retired (hence the mid-week timeslot!), but all are welcome.
The group is split about 50/50 between JHB and MAG sections.
Anyone interested in joining us on a Thursday please give me a call on 061 922 3702 (Johannesburg) or Marietjie Louw (Pretoria) on 082 779 8633