Lazy Day Crag in the Waterberg
A weekend of excellent weather, brilliant sends and great attendance was the name of the game at the newly discovered "Lazy day Crag" in the Waterberg.
The crag is located at Renosterpoort Farm owned run and loved by the Leroux family and is hidden in the forested edge of the upper reaches of the mighty Mokolo river. The lack of cell signal made for some challenging route finding but, late comers on Friday evening were met by friendly faces and a roaring bonfire at Dassie camp our home for the weekend.
Saturday and Sunday showed some High Psyche with 10 new routes being established and some great sending on old routes, Sarel and Roger alone taking down 4 and well done to Kat, Jess, Karine, Mel and Bennie for opening their first trad routes. Deep water soloing took a surprising second place in the activities and it was agreed that some means of floatation to get on the wall with dry shoes is the way forward well done to Sarel and Karine for finding a new way up. Bronze on the Podium was some impressive Hiking and route finding By Lesedi and Motsei with a possible variation and link up of two existing hiking routes.
All in all the weekend was a resounding success, we hope to see more people enjoying this secluded and beautiful area.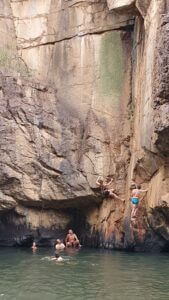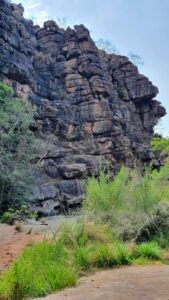 Photo Competition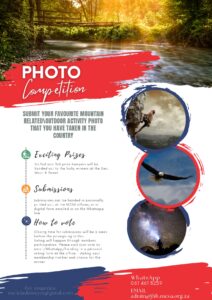 Thursday Hiking Group
Join our informal group of MCSA members for Magaliesberg day hikes on a Thursday.
The group is typically 8 – 10 people (can vary from 2 – 15). We might split up
depending on ability and preference. Hikes range from 8 – 18km (typically 12km).
Most of the group are retired (hence the mid-week timeslot!), but all are welcome.
The group is split about 50/50 between JHB and MAG sections.
Anyone interested in joining us on a Thursday please give me a call on 061 922 3702 (Johannesburg) or Marietjie Louw (Pretoria) on 082 779 8633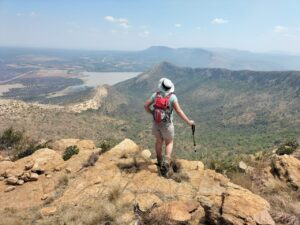 Call for contributions for 2022 Journal
This is a call for contributions to be submitted for consideration/inclusion in the 2022 Journal. Please see https://mcsa.org.za/about/journal/  for the Guidelines, StyleSheet and a Photo Template – these are all current. Please contact the journal editor on jennyapaterson@gmail.com  if you have any queries.
DEADLINE IS 31 JANUARY 2023.
National Newsletter – October 2022
Iron Throne
The Iron Throne crags were filled with 54 climbing visitors on Sunday. It was a pleasure for the MCSA to be joined by Wits University Mountain Club members and many new guests.
Most (Including Irene: 8yrs old) enjoyed a ~50m abseil. Special thanks to the slick abseil crew: Dirk, Dylan, Gary, Jason and Neil for keeping three abseil stations flowing smoothly and getting everyone down safely.
Very positive feedback was received regarding climbs done at both the Kings Landing and Casterly Rock climbing areas, which are in full shade this time of year. Thanks to James, Mike and everyone who helped new climbers try out some top rope climbs.
A fun venue, with great facilities and lots of climbing options – we will have to make this a regular MCSA meet.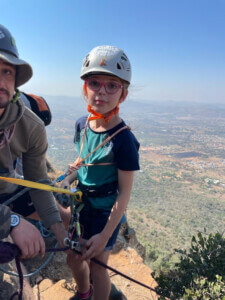 Meat and Greet
I am happy to report that our first social Meat&Greet
was a huge success! There was a great turnout, with
young and old in attendance – and a lot of new faces,
friends and allies alike. If you go by the loud chatter
and buzz that was in the air, all had fun. The vibe was
contagious, the food shared mouth-watering and
delectable…
We were able to create some funds for the club
from donations and sales at the White Elephant
table: thanks, Pierre for your outstanding
contribution! (Pop into the office for what's left)A special thanks to Cally and all the CityRock staff
who were in attendance and helped in making the
evening possible.We plan on making this a quarterly event and hope to see you at the next one!
National non-urban training event held beginning of August in the Magaliesberg
Kloofs, cliffs and caves were the focus of the seventh Mountain Club of South Africa, Search and Rescue's (MSAR) National training meet held 5 to 9 Aug 2022.
Dean van der Merwe, media liaison for the Mountain Club of South Africa Search and Rescue, said, "This biennial event, the first of which was held in 2007, is the most extensive multi-organisational training event dedicated to non-urban search and rescue on the African continent. The overall objective of this training exercise is to raise the national level of training and provide a forum to facilitate the sharing of ideas, new developments, equipment procedures and standards between the regionally dispersed organisations and team members that seldom get the opportunity to collaborate."
Van der Merwe added, "The event saw 105 professional and volunteer rescuers fly and drive to the Magaliesberg in North-West for four days of rescue simulations, idea sharing and in-the-field learning. Besides MSAR volunteers from the Mountain Club's Gauteng, KZN, Western Cape and Eastern Cape teams, a number of local organisations from around Gauteng were also represented. This included volunteers from SARZA Gauteng, the Speleological Exploration Club (SEC), professional rescuers and paramedics from GEMS, ER24 and Netcare 911 and the University Of Johannesburg Department of Emergency Management."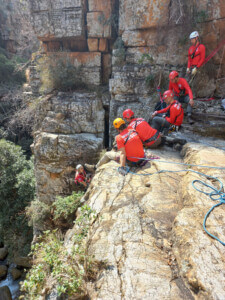 Alikreukel Trail
A new trail has been established on the beautiful South Cape Coast.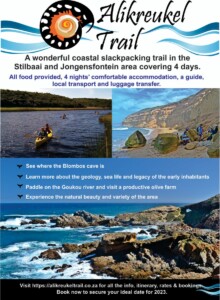 K2 South Africa