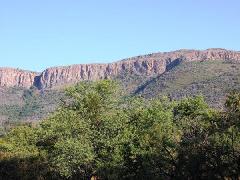 Remhoogte is one of the few trad climbing areas on the escarpment of the Magaliesberg. It offers good exposure on the South facing cliffs.
Open to mountain club members. Contact the MCSA for directions and the latest access information.
Approximate travelling time from Johannesburg
Shady and secure parking available.
The walk in is steep, and for sections without a path. Expect a little bush bashing and wear long pants.
None, normally done as a day trip.
Availability of water for drinking
The MCSA Johannesburg Section has published a route guide, Rock Climbing Routes on the Magaliesberg Escarpment Part 1: Commando Nek, Eureka Dome, Remhoogte, which is available from them or from Drifters.
Remhoogte has 40 multi-pitch trad routes up to 80 metres long ranging between grades 10 and 22. The rock is generally clean, and offers exhilarating exposure. Descents are via gullies. Climbers are asked to please avoid Halfway House buttress between April and October due to Black Eagles nesting.
Some of the best exposure available in the Magaliesberg.
Mountaineering (climbing and hiking) is de facto an activity which carries certain inherent risks. Neither the MCSA, nor any of its members or representatives accept responsibility for any deaths, injury or illness sustained or suffered by any person or for any theft, loss or damage to any property that result from participation in MCSA activities, no matter in what manner caused and whether allegedly due to negligence or not.