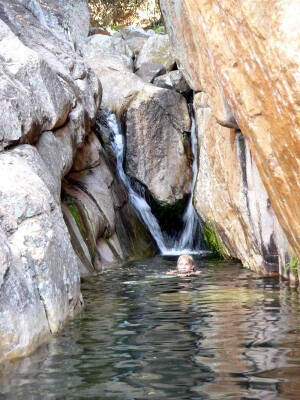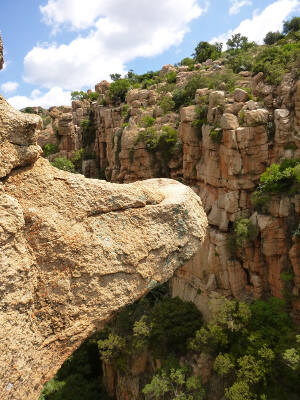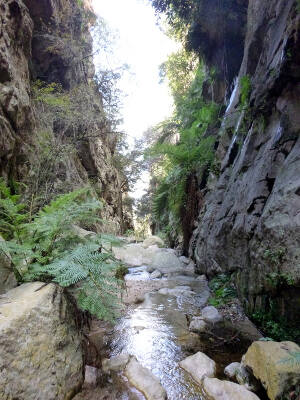 A beautiful steep and narrow kloof famous for its many crack climbs. Most of the 140 or so routes in Mhlabatini are multi-pitch natural lines. While grades vary from 5 to 27 there's a large selection of higher grade climbs – making it a favourite for climbers wanting to push grades.
Land owned by the MCSA, so open to MCSA members and guests (1 guest per member) otherwise permits are required for a maximum of 10 additional people. Get permits from the MCSA Johannesburg Section. – Contact admin@jhb.mcsa.org.za or phone 061 461 8259 weekdays between 3 and 6pm.
Approximate travelling time from Johannesburg
Parking is near the farmhouse of the farm adjacent to the MCSA property – cost is R40/car/day – there is an 'honesty box' into which you drop your parking fee. Sign the register too please. Do not arrive or leave in the dark! Please be quiet and courteous.
There are two walk-in's: A steep, hot slog up the outside of the kloof to access the routes from upstream. An adventurous boulder hop up the kloof itself which involves wading, swimming and a few tricky boulder problems.
Camping, with no facilities, is available either at the top end of the climbing area on the true right side among the boulders at the lip of the kloof or higher up in the side gullies. There's no water available at either campsites, so you need to get water from the kloof. Please note: No camping in the kloof.
Availability of water for drinking
Water is usually abundant in Summer, but can disappear in Winter in the upper regions. There's a perennial spring that flows strongly 5 metres up the first pitch of Mhlabatini Chimney.
The MCSA has published a route guide which is available from them; otherwise there's an online guide at: www.saclimb.co.za
Mhlabatini has about 140 trad climbs on excellent steep rock. While there are easier climbs in the upper quarter (including plenty of 15s), the large number of climbs from grade 19 up make the kloof more suited to experienced climbers climbing higher grades. There are no access or descent gullies in the climbing area apart from the top and bottom ends of the kloof.
No, unless older as the walk in is tricky – being steep and slippery in places.
Yes, there are pools to swim in both at the bottom and top of the kloof (below Mhlabatini Chimney).
Safety has not been an issue.
Mountaineering (climbing and hiking) is de facto an activity which carries certain inherent risks. Neither the MCSA, nor any of its members or representatives accept responsibility for any deaths, injury or illness sustained or suffered by any person or for any theft, loss or damage to any property that result from participation in MCSA activities, no matter in what manner caused and whether allegedly due to negligence or not.