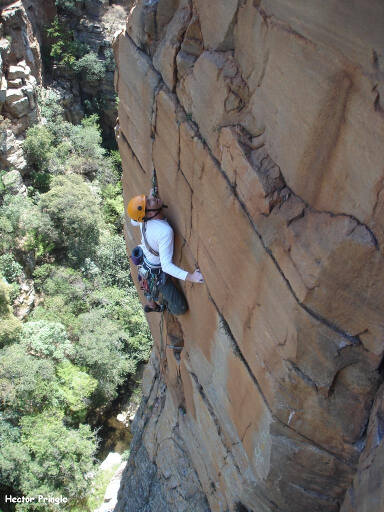 Lower Tonquani is a beautiful, long kloof with crystal clear pools, shady spots and classic climbs congregated around the lower section of the kloof near the Cedarberg Kloof/ Tonquani/ Boulder Kloof junction.
Land owned by the MCSA, so open to MCSA members and guests (1 guest per member) otherwise permits are required. Contact the MCSA Johannesburg Section for permits. – Contact admin@jhb.msa.org.za
Approximate travelling time from Johannesburg
There are various ways to walk into Lower Tonquani, including: Cedarberg Kloof: This is strenuous, steep but very scenic walk, taking between 45 to 60 minutes. Abseiling down Frog Gully: Frog Gully is near the bottom end of Cedarberg Kloof, but be careful as it is very steep and slippery, especially when wet. Takes about 30 to 45 minutes. Boulder Kloof: The walk in to the top of Boulder Kloof is over relatively easy terrain, and takes between 40 minutes to an hour. The walk down Boulder Kloof to Lower Tonquani/ Cedarberg Kloof isquite steep with big boulders, taking another 20 minutes.
Camping is available at the top end of Cedarberg Kloof at the top of Grey Gully – no facilities available apart from a cage to store food. Otherwise Mountain Sanctuary Park has camping and chalets, as well as ablution facilities and a small shop selling cold drinks and ice-cream.
Availability of water for drinking
There's water all year in the kloof, which is safe to drink.
The MCSA has published a route guide, Rock Climbing Routes in the Tonquani Complex', which is available from them; otherwise there's an online guide at: www.saclimb.co.za
This is a long section of the kloof with over 120 trad routes on excellent rock. The climbs are mostly multi-pitch with a range of grades from 7 to 26, including a number of classic climbs of all grades. Some 90 metre and longer climbs, with superb views, can be found in the area where Cedarberg Kloof intersects Tonquani.
Yes, if 12 years and up as the walk in is long, and can be tricky – with steep sections, pools to boulder hop and wade and boulders to navigate.
Crystal clear pools to swim in, a wide variety of birds, animals and plants and beautiful scenery to inspire photographers and artists. Kloofing from Upper to Lower Tonquani is a great way to explore the kloof – but be very careful when negotiating the traverse above the Help-Help Pool (which separated Tonquani) as the rock is extremely slippery.
The general area has had muggings, so be alert. The accessfrom Upper to Lower Tonquani using the traverse above the Help-Help Pool is overpolished rock and hazardous to inexperienced parties.
Mountaineering (climbing and hiking) is de facto an activity which carries certain inherent risks. Neither the MCSA, nor any of its members or representatives accept responsibility for any deaths, injury or illness sustained or suffered by any person or for any theft, loss or damage to any property that result from participation in MCSA activities, no matter in what manner caused and whether allegedly due to negligence or not.