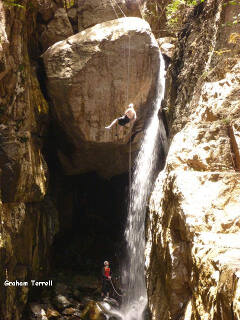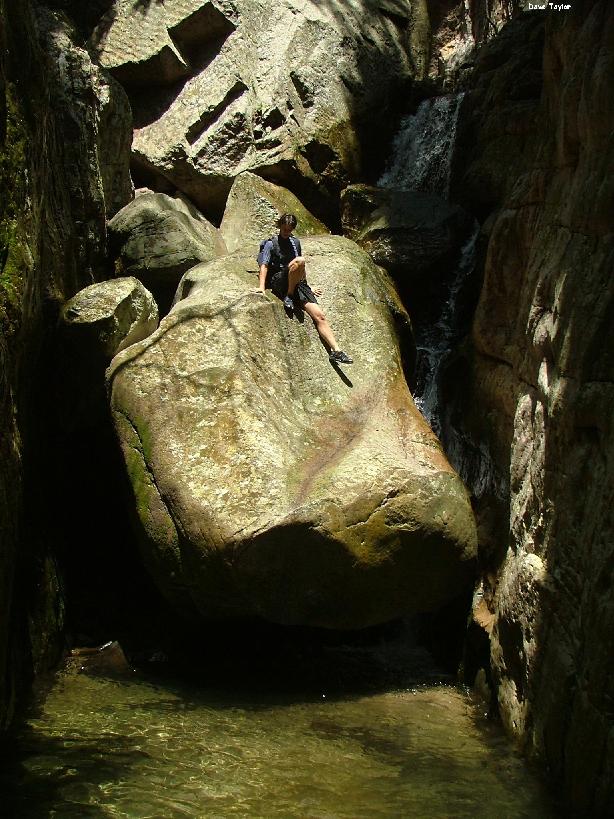 Grootkloof is a shady, attractive kloof with a perennial stream, clear pools and unique rock formations, including a huge suspended chock stone with trees growing on it straddling the whole kloof midway between Sonderbroek and Trumpet. The rock, which in places reaches 60 metres in height, is generally excellent, and the kloof has a good selection of climbs of all grades. Black Eagles nest from April to October so please avoid the following climbs during this period: New Era Crack, Lilliput Ridge and The Crystal Ship. This area is part of the Magaliesberg Protected Environment (MPE) and the Magaliesberg Biosphere – magaliesbergbiosphere.org.za. Please see the FAQ: Permit Rules.
MCSA-owned property. Non MCSA members must obtain a permit from the MCSA Magaliesberg Section. All visitors must carry a copy of the permit. No permits are issued to non-members for the first full weekend of a month, as we reserve that weekend for MCSA members and their guests only. MCSA members do not need permits. One member one guest rule applies. Members must carry their membership cards with them. This is the only venue in the Magaliesberg where dogs are allowed, but they have to be kept on a leish at all times.
Approximate travelling time from Johannesburg
1 hour, 15 mins. Please follow the signs to the Sparkling Waters Hotel or Magaliesberg Canopy Tours.
Shady and secure parking available at the Bartlett farm, where the MCSA register has to be signed and the R40/car/day parking fee paid in cash to the landowner.. Please park at Bartlett's place and follow the MCSA servitude path through the gate near Bartlett's farm to access the camp-site and kloof. Parking at Bartlett's Farm directions: Continue down the road past Sparkling Waters Hotel for about 1.5 kilometres to the farm gate (white wagon wheels) on the right. All members and permit holders please complete the register and pay the farmer for parking. Parking rates will be confirmed by the MCSA Magaliesberg Administrator on request or when booking the permit. Please be considerate, drive slowly into the parking area and don't disturb the Bartlett family.
The walk in is an easy walk, though mostly uphill, through the camp-site, Ysterhoutkloof and up to Easy Gully. The kloof should rather be entered down Easy Gully. Note, the descent into the kloof via Grootkloof Gully is steep and includes a grade 8 climbing move. A map to show the route is available. Please get the gate code & map from Magaliesberg Section Administration.
Camping is allowed for MCSA members just above the junction of Grootkloof and Ysterhoutkloof. No facilities available.
Availability of water for drinking
Water is always available as the stream flows strongly throughout the year. There are facilities available at the Bartlett Farm, please leave it the way you want to find it. On the MCSA property field toilet manners apply. Please note field toilet manners apply, see the FAQ: What are 'Field toilet manners?'.
There are 129 traditional climbs in Grootkloof, mostly single pitch routes, but generally of very high quality. A few highly graded routes were judiciously bolted, but some bolts are now very badly rusted. The grades vary from 5 to 28 with some really good classics at most grades. With climbs on both sides of the kloof, there's always shade available. Descents involve either scrambling down various gullies or careful abseiling off of trees. Must do classics include: Chameleon Crack F2 (15), Sphinx F3 (17), and Isolation Pinnacle E3 (11).
Yes for older children, as access into the kloof is steep. Children are only allowed with adult supervision.
Yes, there are some lovely pools to swim in.
Strictly not allowed, as it is part of the MPE.
Grootkloof offers the best kloofing in the Magaliesberg, an unforgettable mix of abseiling, swimming, scrambling, bum-sliding, rock jumping and lots of fun. A word of caution to those attempting to go down the kloof in this manner, everybody in the party should be physically fit, and know how to swim and abseil; the large chock stone in the middle of the kloof results in a 20 metre abseil down a waterfall into a pool. Bring ample plastic bags to keep your stuff dry and beware of hypothermia, as the lower part of the kloof is completely shaded in winter.
Since September 2011 there have been a few robbery incidents in Grootkloof, including an armed robbery. Please go to Grootkloof in a group and be aware of your surroundings. Religious groups trespass to the junction pool at times but are normally peaceful. You may ask them to leave, as it is private property. Slippery rocks near the streams and pools can be dangerous – take care and supervise children. Visitors to the kloofs should be encouraged to recognize the inherent danger in entering wilderness areas and avoid dangerous situations.
Mountaineering (climbing and hiking) is de facto an activity which carries certain inherent risks. Neither the MCSA, nor any of its members or representatives accept responsibility for any deaths, injury or illness sustained or suffered by any person or for any theft, loss or damage to any property that result from participation in MCSA activities, no matter in what manner caused and whether allegedly due to negligence or not.