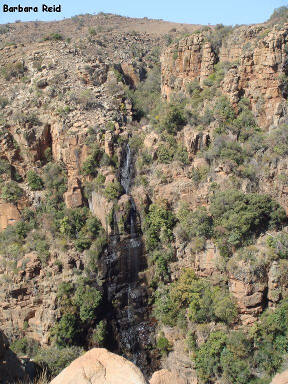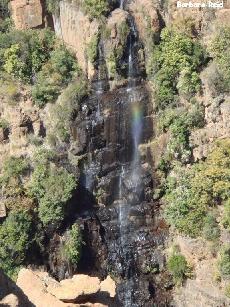 A PERMIT IS REQUIRED BY EVERYONE TO VISIT (EVEN MCSA MEMBERS) AS THIS IS A PRIVATE KLOOF.
With no steep walk-ins and a waterfall, Easterkloof is a beautiful and accessible hiking kloof in the Magaliesberg. IT IS PRIVATELY OWNED. The kloof, which got its name as the first time the MCSA held a meet there was over the Easter weekend, offers a range of hikes of various lengths through a beautiful gorge along the stream bed. A PERMIT IS REQUIRED BY EVERYONE, TO VISIT,.
Approximate travelling time from Johannesburg
Parking is available on Francois Junod's farm; there have been no break-in incidents to date. A parking fee is payable.
The amount of time taken to walk in depends on your level of fitness and how far you plan to go. The start of the walk is relatively easy but becomes harder the further you choose to hike.
None available; Easterkloof is a day venue.
Availability of water for drinking
Plenty of water as the walk follows the stream up the kloof.
Dependent on child's ability to walk. More suited to children 12 years and older.
NO FIRES PERMITTED AT ALL.
A wide variety of birds, animals and plants, beautiful scenery and a waterfall.
Mountaineering (climbing and hiking) is de facto an activity which carries certain inherent risks. Neither the MCSA, nor any of its members or representatives accept responsibility for any deaths, injury or illness sustained or suffered by any person or for any theft, loss or damage to any property that result from participation in MCSA activities, no matter in what manner caused and whether allegedly due to negligence or not.