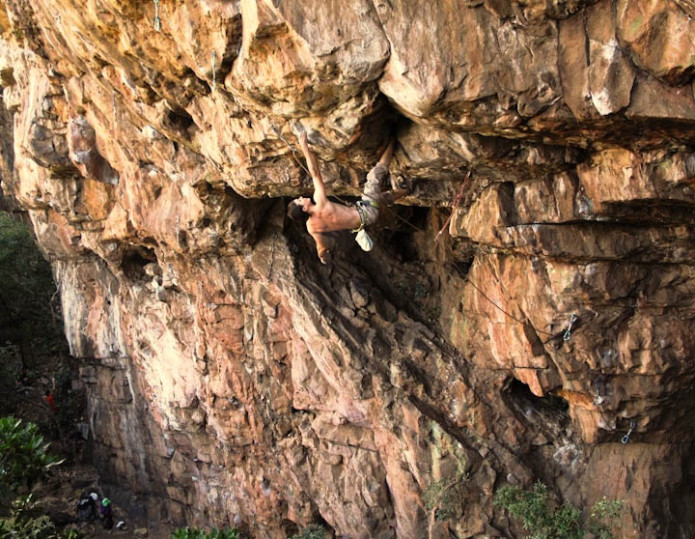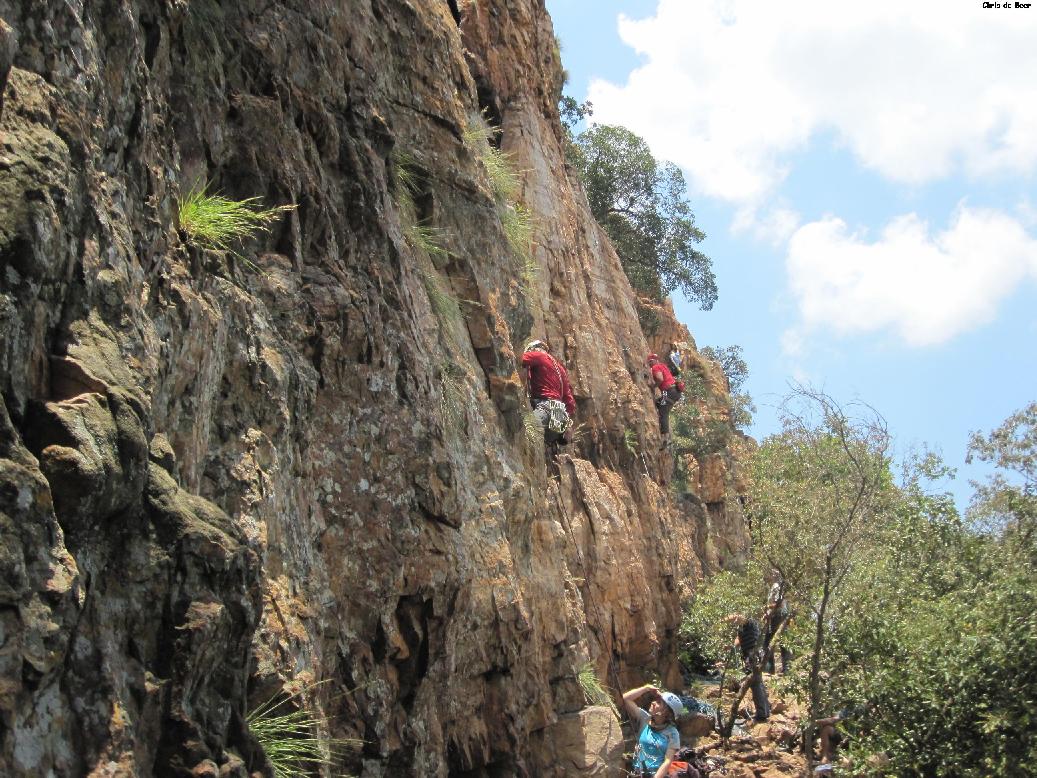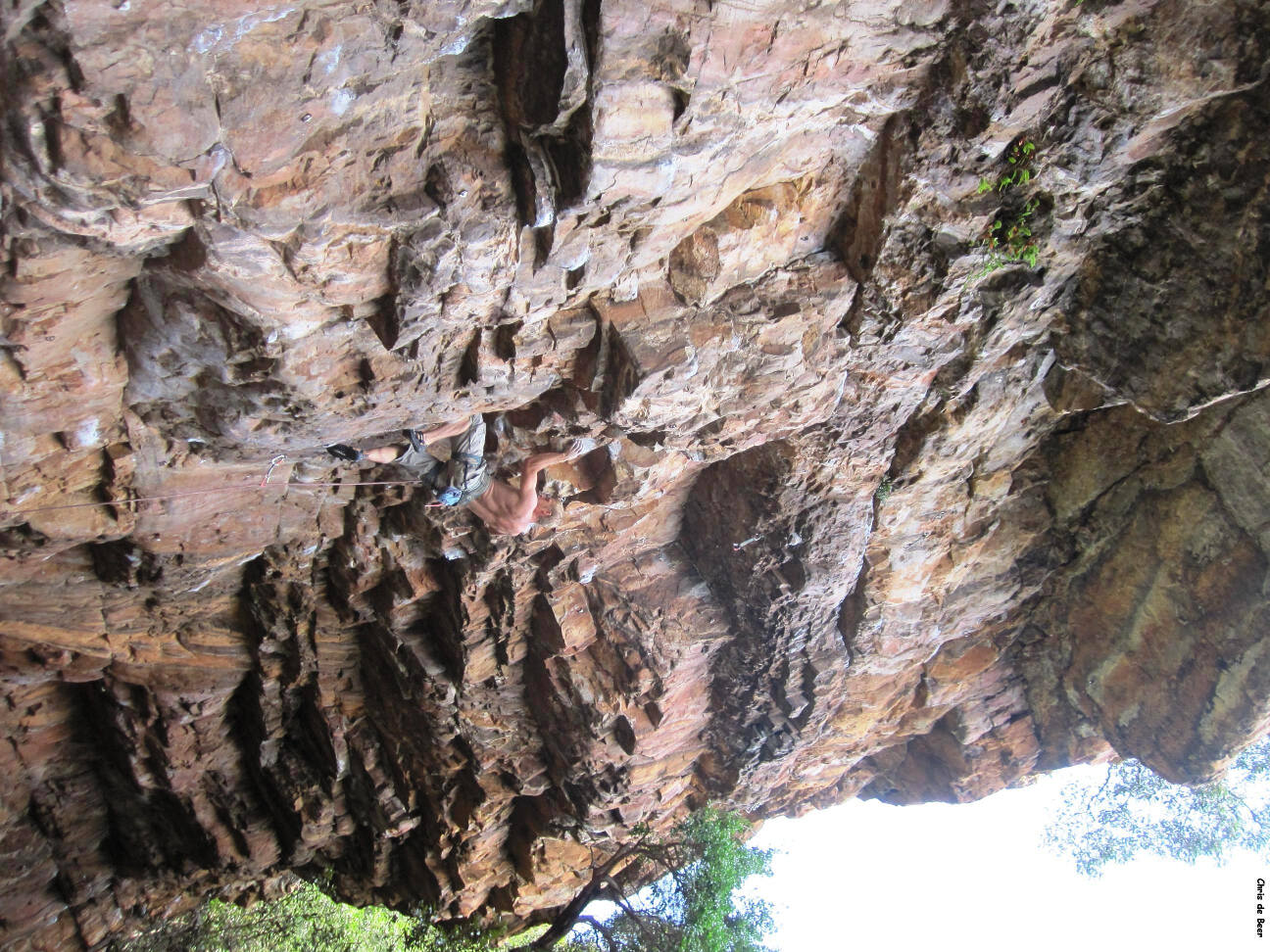 Chosspile is a sport climbing area above the Hartbeespoort Dam, within an hour's drive from Johannesburg. It comprises of 3 climbing sectors with grades ranging between 11 and 32. For beginners / children the Harry Potter sector (about 30 routes) is most suitable, while strong climbers will enjoy Lord of the Rings with its hard lines and futuristic projects.
Due to past safety issues, as of August 2020 the following access arrangements were re-negotiated by the MCSA with Mount Amanzi, which has legal control of the land: Only recognised climbing club members (MCSA, SANCF, or University) who have an up-to-date membership card, with a photo, are allowed to climb at the Chosspile. Each club member is allowed a single guest. Members and guests first report to Mount Amanzi's reception (same side of the road, but across the river from the Chosspile).Each person goes to reception to sign in, one guest per member allowed. Before entering reception they have to sanitize hands and temperature reading, and only one person inside at a time. Wear masks. Otherwise everything the same as before. Note please : JHB Section does not issue permits for Chosspile. You will receive the current combination code for the gate from them.
Approximate travelling time from Johannesburg
EVERYBODY must sign in at reception, show their MCSA card with current year sticker; one guest per member only. People with additional guests on non-current cards will not be allowed in. The climbers, after going to reception,go to the gate where the guard will only allow you in if the number of people corresponds with the number of people shown on the invoice that you will get from reception. The guard will leave at 4.30 pm, but those wanting to leave later can do so via the combination lock as before.
Walk ins are short but steep and range from about 15 minutes (Harry Potter) to 30 minutes (Wall of Aglarond and Lord of the Rings).
Due to its proximity to Johannesburg, the Chosspile is ideal for a day's outing. However, accommodation is available at Mount Amanzi: www.mountamanzi.co.za
Availability of water for drinking
None at the crags. Conditions in summer, especially during the hike-ins can get humid and extremely hot in the afternoon. Make sure that you have enough water either from home or stock up at Mount Amanzi.
Routes at Chosspile are fully bolted and range in grade from 11 – 32, with a couple of projects which will be among the hardest in SA once opened. The height range of the routes is between 12 to 30 metres, so a 60 metre rope is sufficient. The Harry Potter area has the highest concentration of easier routes while Lord of the Rings is most suitable for experienced strong climbers.
Yes, if the child is fit and 0ver 10 years old.
Members wishing to make use of the excellent swimming and additional facilities at Mount Amanzi can do so at a cost of R50 per day. Enquire at Mount Amanzi's reception.
No fires are permitted at the crags.
There were muggings in the past, but since the new permit control system there have been no incidents.
Mountaineering (climbing and hiking) is de facto an activity which carries certain inherent risks. Neither the MCSA, nor any of its members or representatives accept responsibility for any deaths, injury or illness sustained or suffered by any person or for any theft, loss or damage to any property that result from participation in MCSA activities, no matter in what manner caused and whether allegedly due to negligence or not.