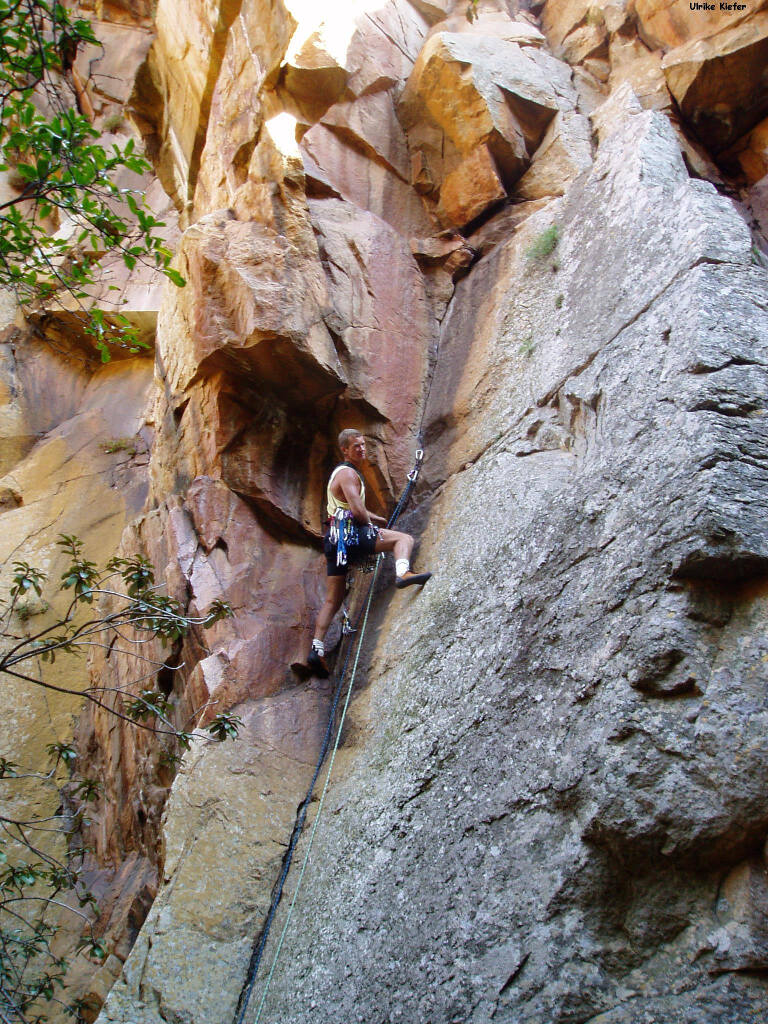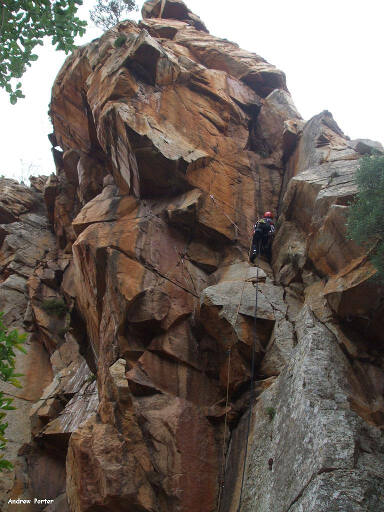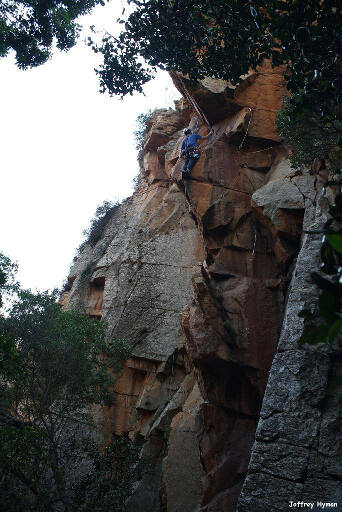 An offshoot kloof that branches off from Lower Tonquani, Boulder Kloof is a typical Magaliesberg kloof characterised by steep cliffs, and as its name suggests, massive, fallen boulders – making for striking scenery. Climbs are generally of a high standard on good quality, steep rock but tend to be short.
Land owned by the MCSA, so open to MCSA members and guests (1 guest per member) otherwise permits are required. Contact the MCSA Jhb section – Contact admin@jhb.mcsa.org.za / tel: 061 461 8259 weekdays 3 – 6pm
Approximate travelling time from Johannesburg
Entry through Mountain Sanctuary Park Safe Parking is available at Mountain Sanctuary Park, GPS: 25° 50.173′ S (25° 50′ 10″ S) 027° 28.564′ E (027° 28′ 33″ E).
Parking costs R40.00 per vehicle.
Non MCSA members also have to pay an entry fee of R100 per adult and R50 per child.
Entry through Calabash Parking costs R40.00 per vehicle (members and non-members), payable to the Jhb MCSA office.
Entry through Utopia Only MCSA members may park at Utopia, contact MCSA Jhb for details. Parking costs R40.00 per vehicle.
The walk in to the top of Boulder Kloof is over relatively easy terrain, and takes between 40 minutes to an hour. Navigation can be difficult for first timers as the path isn't well defined. The walk down Boulder Kloof to Lower Tonquani/ Cedarberg Kloof is quite steep with big boulders, and takes about 20 minutes.
Camping is available at the top end of Boulder Kloof (no facilities available) otherwise Mountain Sanctuary Park has camping and chalets, as well as ablution facilities and a small shop selling cold drinks and ice-cream.
Availability of water for drinking
A large part of the kloof is dry with no running water; however, water is always available lower down the kloof near the Tonquani junction.
The MCSA has published a guide, Rock Climbing Routes in the Tonquani Complex', which includes Boulder Kloof. Get the guide on our website here, under the "Routes" option.
Over 60 star graded trad climbs of various grades from 8 to 27. Most climbs are a single pitch on good rock. Descents are either by abseiling off a tree or walk offs. The kloof is shady.
There's no swimming available in Boulder Kloof itself, but there are plenty of pools lower down the kloof and in Tonquani. There's also a large pool at the bottom end of Lower Tonquani that you pass walking in and out which is perfect for a cooling dip.
A wide variety of birds, animals and plants; and fantastic opportunities for photographers and artists.
The general area has had muggings, so be alert.
Entry through Calabash: Contact MCSA Jhb Section for permits and paying parking for Calabash; Entry through Mountain Sanctuary Park:
Their parking and access fees apply, and you still need permits from the MCSA .
See their website: www.mountain-sanctuary.co.za.
Contact email for MCSA JHB: admin@jhb.mcsa.org.za
Mountaineering (climbing and hiking) is de facto an activity which carries certain inherent risks. Neither the MCSA, nor any of its members or representatives accept responsibility for any deaths, injury or illness sustained or suffered by any person or for any theft, loss or damage to any property that result from participation in MCSA activities, no matter in what manner caused and whether allegedly due to negligence or not.