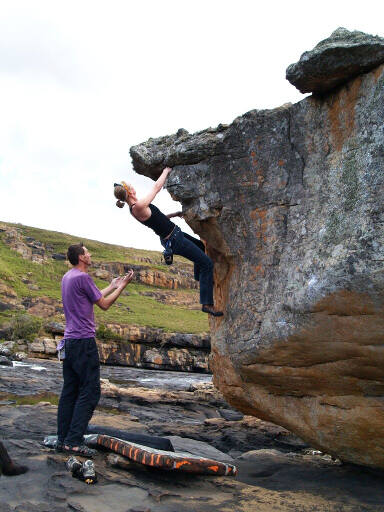 Gold Rush is a pristine bouldering area on a private farm along the Treur River near Grasskop, Mpumalanga. It offers novices and experts a range of bouldering problems in a beautiful setting suitable for everyone, including young children. As access is controlled, it is important to notify the landowners about intended private visits – see contact details below.
At least 1 MCSA member per party.
Approximate travelling time from Johannesburg
About 4 hours. Gold Rush is about 22 km outside of Grasskop.
Parking is alongside the dirt road on Gold Rush property, within walking distance of the boulders.
All boulder areas are within an easy 20 minutes walk from the car.
Camping on the property is unfortunately no longer permitted, but about 25km further down the road is the Blyde River Campsite. There are also Chalets available in Graskop.
Availability of water for drinking
Water from the Treur River is suitable for drinking.
There are over 200 boulder problems spread over 14 different areas. Bouldering grades range from the very easy (3) to very hard (7C). Most of the problems are within the easy to moderate range, making Gold Rush an ideal introductory destination for beginners. Be sure to pace yourself though, as the featured rock tends to be rough on delicate hands.
Gold Rush is a child friendly venue as all bouldering areas are within easy walking distance of cars.
The Treur River has some fantastic wade pools.
Fires are strictly forbidden.
Gold Rush offers visitors a range of activities in addition to bouldering, including hiking, bird-watching, swimming, and picnics providing that no fires are lit and no littering (including cigarette butts) occurs. In addition, major tourist attractions such as Bourke's Luck Potholes and God's Window are within a short drive's distance.
Fires are strictly forbidden. Due to the proximity of the river, toddlers need to be under strict parental supervision.
In order to visit Gold Rush, a permit MUST first be obtained from the land owner York Timbers, contact Reitte Hallatt during office hours on 013 764 9200. If you do not have success, please contact either Neil Margetts (083 669 3028) or Gustav Janse van Rensburg (082 753 3695).
Mountaineering (climbing and hiking) is de facto an activity which carries certain inherent risks. Neither the MCSA, nor any of its members or representatives accept responsibility for any deaths, injury or illness sustained or suffered by any person or for any theft, loss or damage to any property that result from participation in MCSA activities, no matter in what manner caused and whether allegedly due to negligence or not.