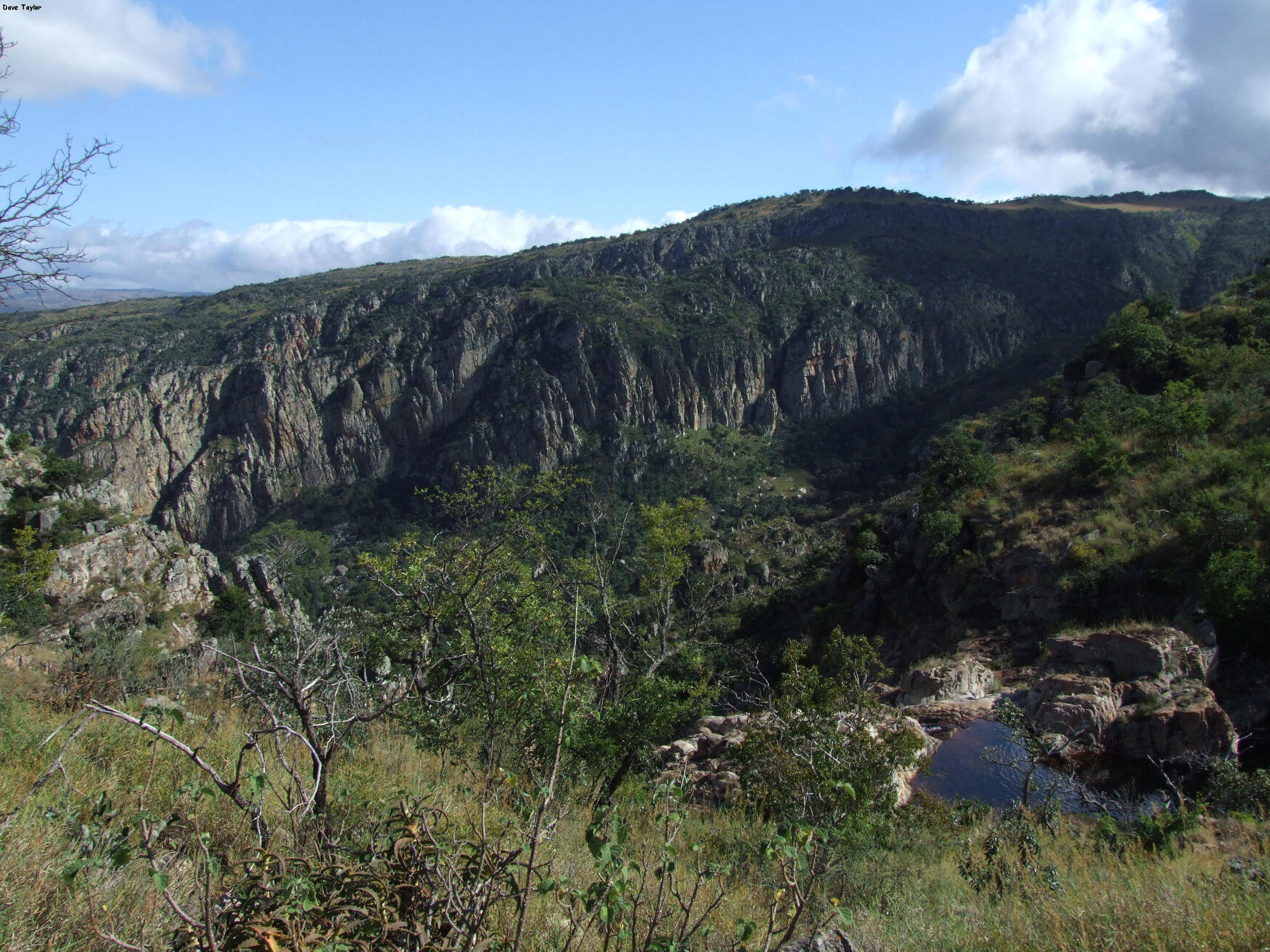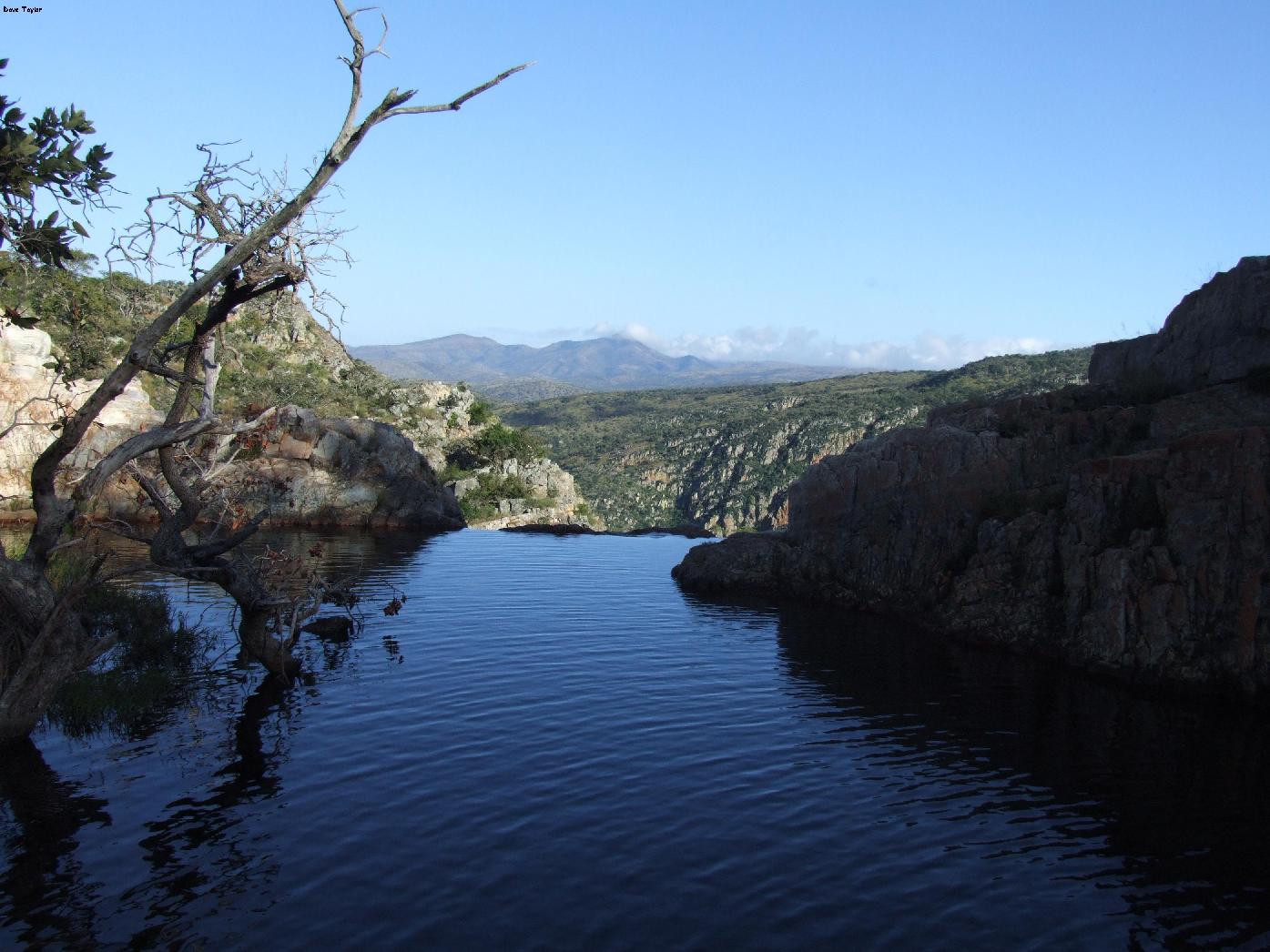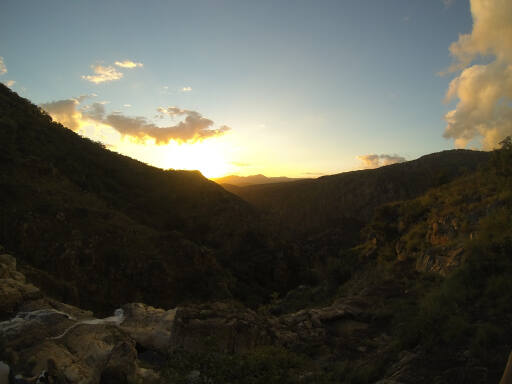 Gibraltar is a kloof system in the so-called Transvaal Drakensberg, with gorges, kloofs, waterfalls and clear rock pools. The area is incredibly pristine and beautiful with weathered and lichened rock and indigenous vegetation. Walks lead up to dramatic views from the escarpment. There are kloofing and gorge walks. Swimming in the many natural pools is a big attraction. Probably the best swimming experience is in Pool-With-A-View at the very top edge of the highest waterfall. Camping is superb.
No permission or permits required.
Approximate travelling time from Johannesburg
There are two parking areas. The normal area is at a shop and the owner will watch your car for a negotiable fee. You then have to walk across the wide river, or if it is too full, use the cable-ways. If you are prepared to cross the river by 4×4 you can drive another 4 kilometres and park at a village. Parking and guarding fees negotiable. Porters are available.
Time from the shop to the village is about 2 hours, from the village to the camp about 3 hours up the outside of the kloof and about 10 hours up the kloof itself.
Camping under shade on good surfaces.
Availability of water for drinking
Access details are available from the MCSA Land and Access Convenor. Climbing route guide must be found from old journals. For hiking guides it is best to take someone along who has been there before.
Climbing is strictly trad with some long, generally easy routes. There are some shorter harder routes possible near the camp. This area is best appreciated on foot as a hiking paradise.
Yes, every child over, say, 9, should be brought here.
Abundant small wild-life, i.e. birds, monkeys, baboons, dassies, small buck, snakes (no problem), lizards etc. Natural vegetation and beautifully eroded and weathered rock. There are swimming pools everywhere.
None; Weather in high Summer can be very hot, and Winter is a bit cold for comfortable swimming.
Mountaineering (climbing and hiking) is de facto an activity which carries certain inherent risks. Neither the MCSA, nor any of its members or representatives accept responsibility for any deaths, injury or illness sustained or suffered by any person or for any theft, loss or damage to any property that result from participation in MCSA activities, no matter in what manner caused and whether allegedly due to negligence or not.