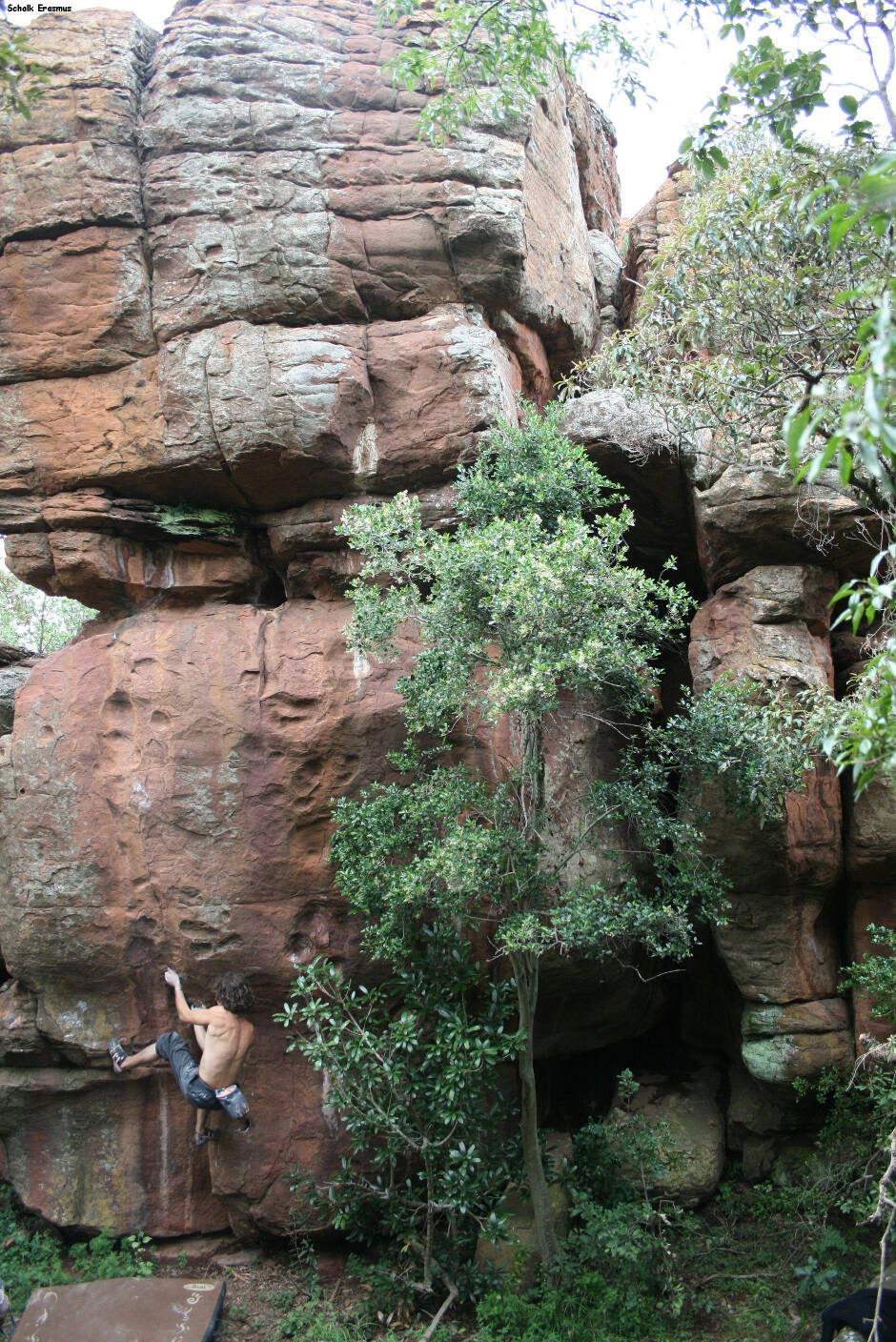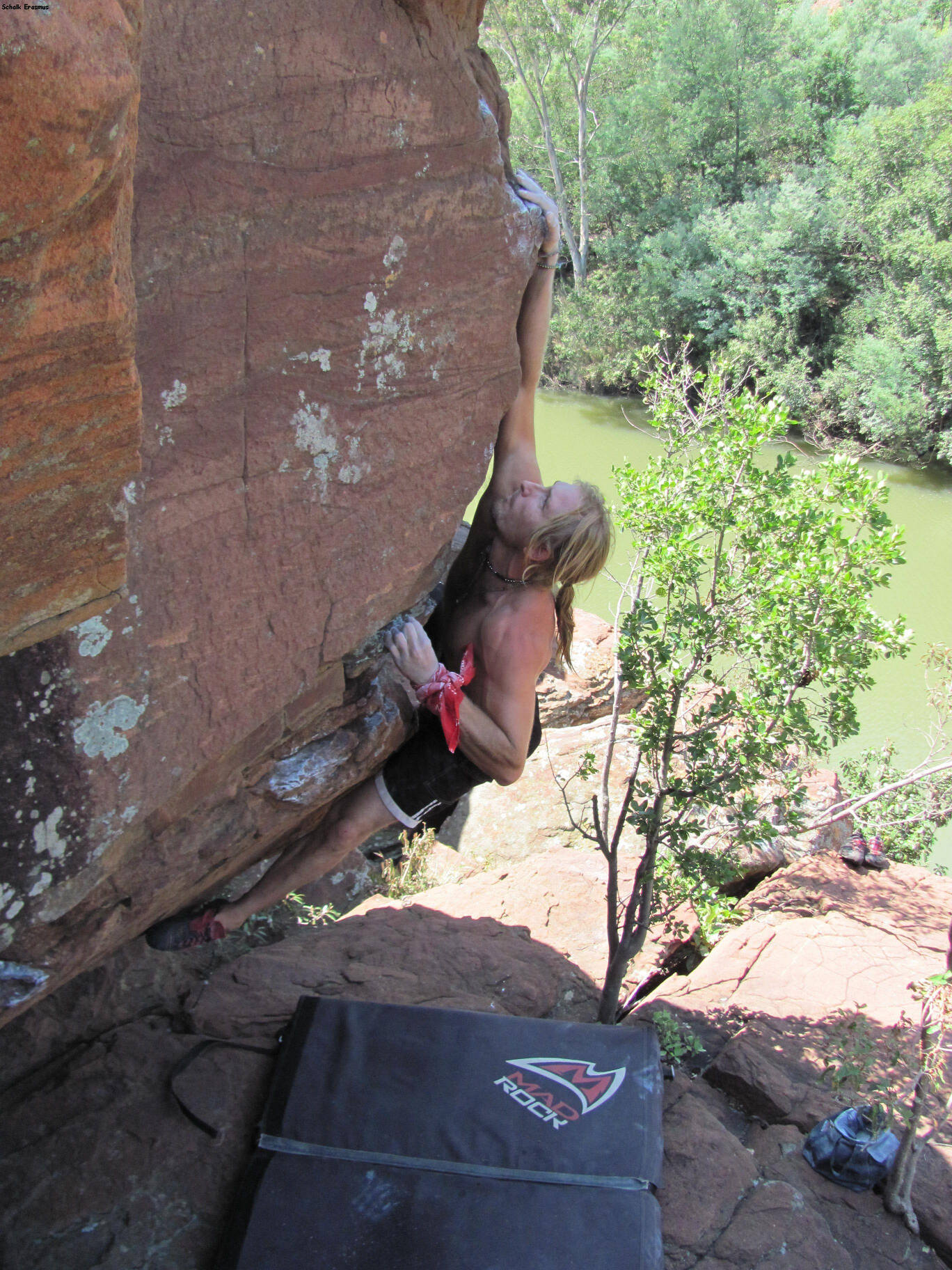 Ezemvelo is a nature reserve just north of Bronkhorstspruit. With spectacular cliffs, huge rock formations, ancient rock paintings, magnificent views over the Wilge River, 33 game species and 300 bird species the reserve has something for everyone. Activities include bouldering, hiking, game viewing, game drives, bird watching, horseback riding, fishing, caving, viewing of bushman paintings, and putt-putt.
Bouldering is allowed on the southern side of the Wilge River. A disclaimer must be signed at reception by all climbers and climbers are requested to respect the rules and regulations of Ezemvelo Nature Reserve.
Approximate travelling time from Johannesburg
One and a half to two hours travelling time. A car with high ground clearance is needed to get to the bouldering area.
You can park at the bouldering area – it is very safe with no crime at all. The cost of entry to Ezemvelo varies from high season and off-season, costs for 2012: Entry fee per person: High season: R40/ Off season: R30. Car entry: R25 per car.
Walk in time is anything from a minute to an hour depending on which bouldering area you wish to visit.
Accommodation is available at Ezemvelo, including: Climbers' campsite: R50 (no facilities). Ezemvelo campsite, which has facilities: R60. Huts, chalets and backpackers accommodation is also available, see www.ezemvelo.co.za for information and prices.
Availability of water for drinking
Water is sold at reception. There is no drinking water at the bouldering area; though there are a few springs around, it's best to bring your own water.
A route guide is currently being compiled. A temporary route guide can be arranged; otherwise you can be escorted by one of the Top Out team, who've been instrumental in developing bouldering in the area. Please contact Schalk Erasmus, Cell: 073 744 3952 to make arrangements.
Ezemvelo is a boulderer's playground, with over 50 bouldering spots all in easy walking distance with varying degrees of shade throughout the day. There are approximately 160 boulder problems ranging from grade 5A to 8A. The height of boulders varies from 1 to 9 metres – so bring a bouldering mat.
Dependent on amount of walking, some paths are on very uneven terrain.
There is a pool at reception or a river at the crag.
Fires are permitted at reception and at reserved campsites. There is also a fire pit at the climbers' campsite. Otherwise, fires are strictly forbidden.
There are numerous other attractions to tempt visitors, including hiking, mountain biking, bird watching, game viewing, rock art tours, caving, horseback riding, fishing and putt-putt.
Ezemvelo is a nature reserve so there are wild animals including hyenas, leopards, rhinos, snakes, scorpions and ticks.
For information on bouldering routes, including a guide, contact Schalk Erasmus, Cell: 073 744 3952. To book accommodation or activities, contact Ezemvelo's reception, Tel: 013 680 1399.
Mountaineering (climbing and hiking) is de facto an activity which carries certain inherent risks. Neither the MCSA, nor any of its members or representatives accept responsibility for any deaths, injury or illness sustained or suffered by any person or for any theft, loss or damage to any property that result from participation in MCSA activities, no matter in what manner caused and whether allegedly due to negligence or not.