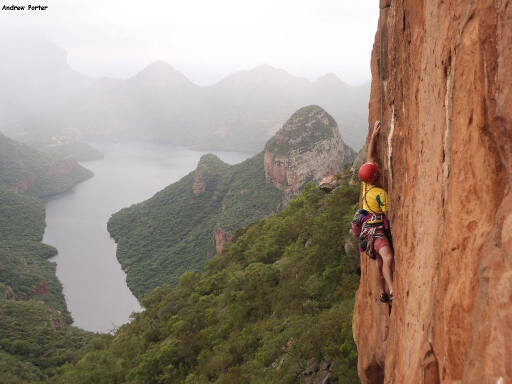 Blydepoort offers over 80 traditional climbs on immaculate quartzite rock with spectacular panoramic views of the Lowveld. The walk-ins are conveniently short and close to the accommodation site at the Blyde Canyon Forever Resort. In general, the variety of grades and ease of access make Blydepoort an excellent venue for club members of all ages to practice gear placement skills. The range of activities for visitors, both at the Resort and within a 50 kilometre radius of Blydeport, will keep everyone busy, no matter your age or interest.
The crags outside the Blyde Canyon Forever Resort are on SANParks property and climbing on these crags is not permitted. These crags, which are accessed via the Rondawel Lookout parking area, are patrolled by SANParks officials, who will arrest any climbers on them. The crags within the Blyde Canyon Forever Resort are situated on land owned by SANParks, but leased by Forever Resorts. SANPark officials do not patrol this land as it is the Resort's responsibility to protect it. While no official access has been granted by Blyde Canyon Forever Resort to climb the crags on this land, climbing has also not been forbidden. Climbers visiting the area are asked to respect the sensitivity of access at present by being discrete and vigilant. While you are free to open new lines, bolting is strictly prohibited.
Approximate travelling time from Johannesburg
Parking for the Blyde Canyon Forever Resort crags is within the Resort's boundaries, climbers have to pay the usual Resort entrance fees and there are a few different parking areas which appear to be safe.
Walk-ins to most crags are short and relatively easy.
Blyde Canyon Forever Resort offers camping (R85 per person per night) and various chalet options, see for details.
Availability of water for drinking
Water is available from the campsite within the Blyde Canyon Forever Resort.
Route Guide for Rock Climbing in Blyde River Canyon by Gareth Frost, no longer available at www.climbing.co.za
There are over 80 traditional climbs varying in length from 1-5 pitches. The grade range is 14-24, with most routes in the 17-20 bracket. The large number of good quality climbs makes Blydepoort an ideal venue for aspiring trad climbers to practice gear placement in a magnificent setting. Climbing at Blydepoort is divided into 2 areas: The Blyde Canyon Forever Resort Complex has 6 crags just outside the camping site, while the Rondawel Lookout Complex (currently out of bounds), a short drive away, has 5 crags. Blydepoort's quartzite rock is of excellent quality and the climbing conditions are generally good all year round, though Summers can be hot and rainy, and Winter nights can get very cold.
Yes, at the Blyde Canyon Forever Resort swimming pool.
Braai facilities are available at the Blyde Canyon Forever Resort.
A visit to Blydepoort offers visitors a range of activities both at the Blyde Canyon Forever Resort and nearby tourist destinations. Within the Resort there are hikes (1-5 hours), horse trails, fishing, mini golf, trampolines etc. Activities within a 50 kilometre radius include Bourke's Luck Potholes, Eco Caves, the Pinnacle, God's Window etc.
Mountaineering (climbing and hiking) is de facto an activity which carries certain inherent risks. Neither the MCSA, nor any of its members or representatives accept responsibility for any deaths, injury or illness sustained or suffered by any person or for any theft, loss or damage to any property that result from participation in MCSA activities, no matter in what manner caused and whether allegedly due to negligence or not.