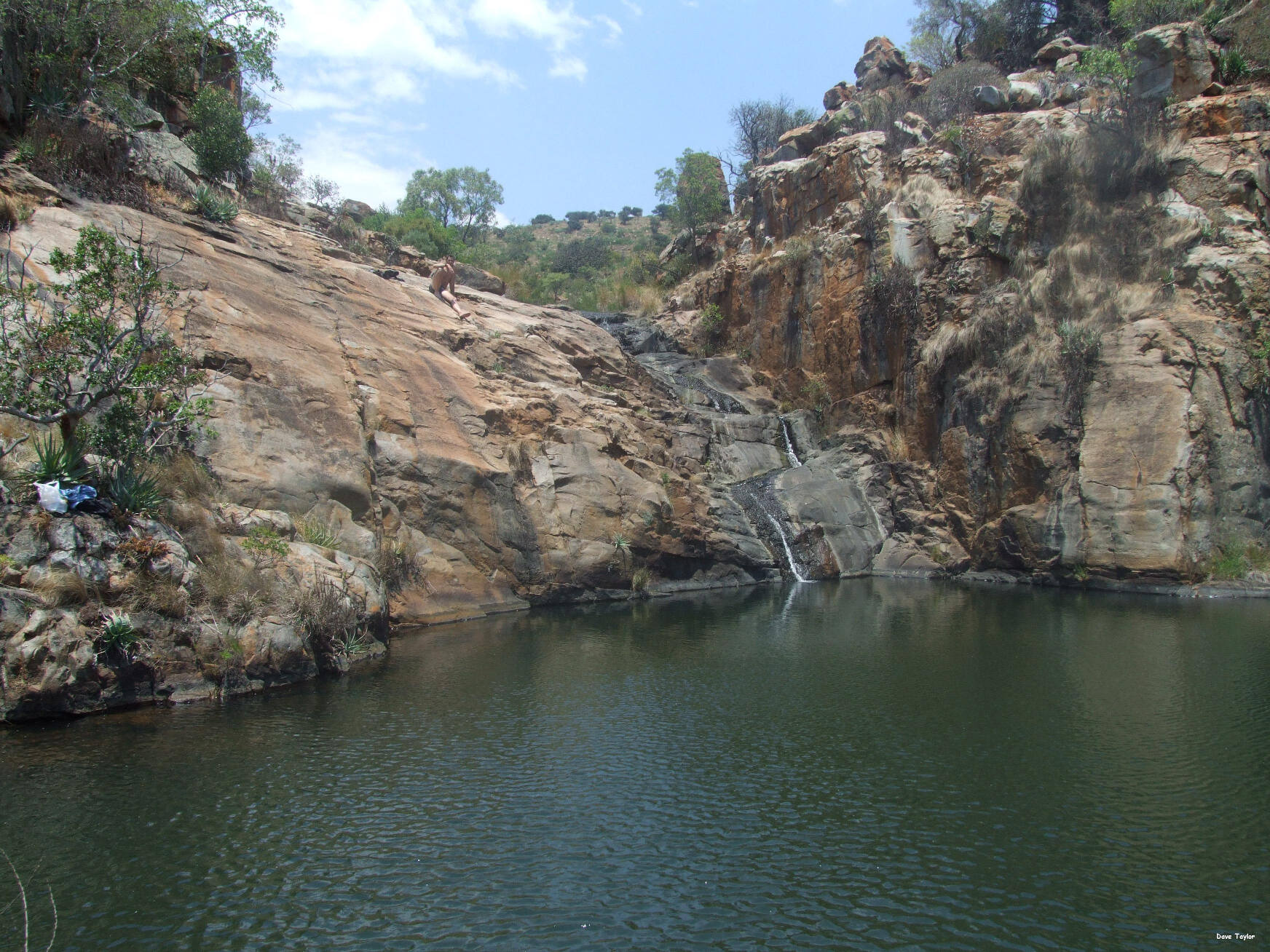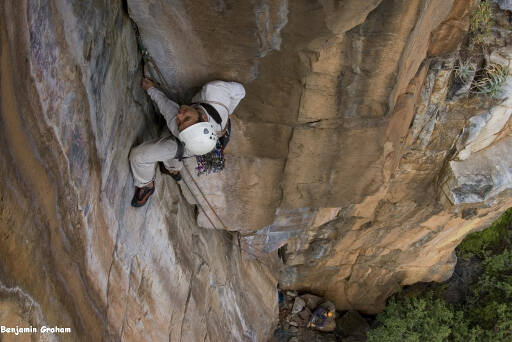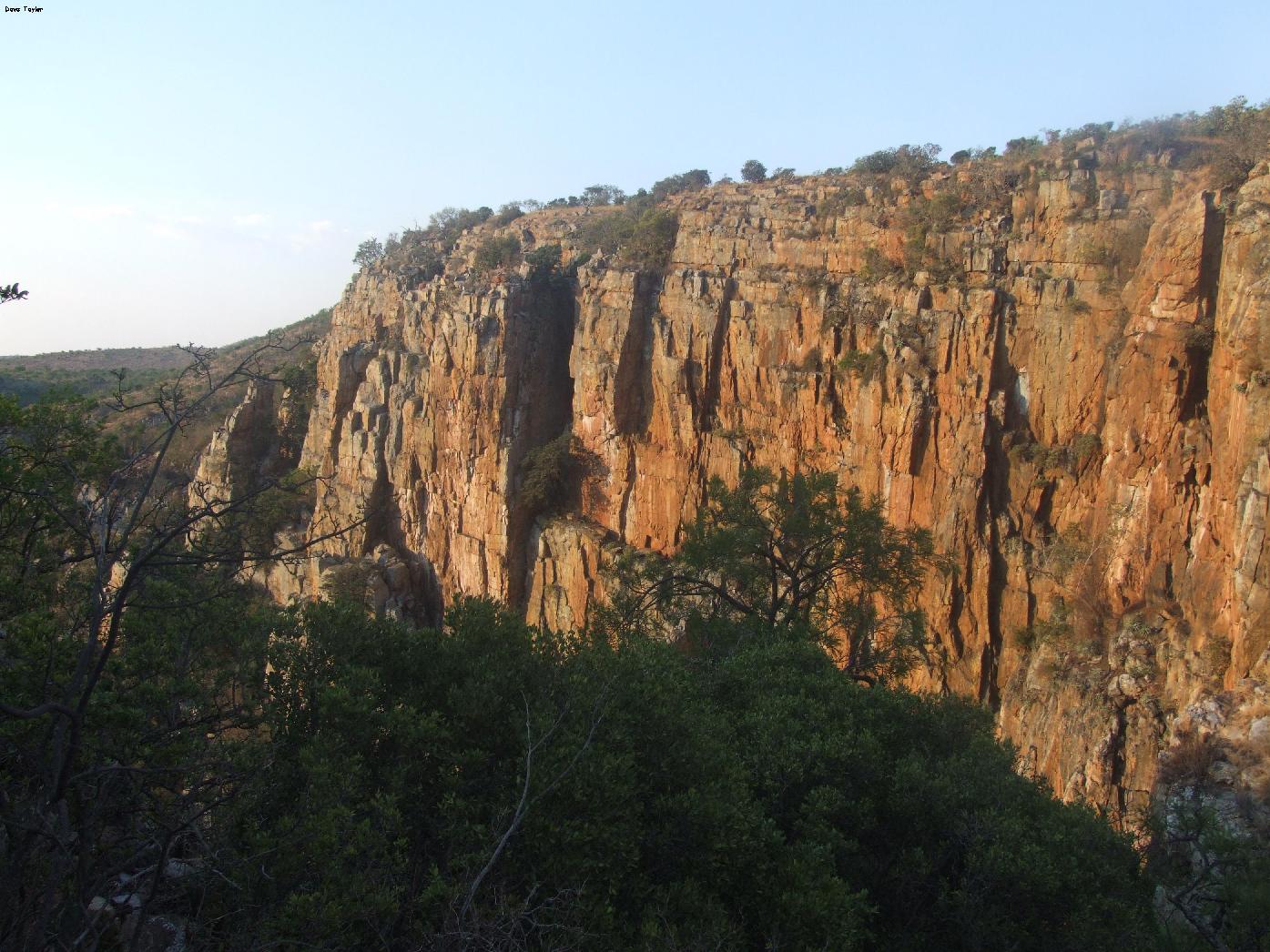 Makapansgat is about 100 kilometres South of Polokwane (formerly Pietersburg) near Mokopane (formerly Potgietersrus) in the Strydpoort mountain range, making it an ideal weekend trip or a handy alternative if you're rained off Blouberg. It's an all-trad venue with a super easy walk-in, very exposed, wild and beautiful camping, deep pools, high waterfalls and easy-to-access cragging. There is lots of new route potential.
Due to the paleontological sensitivity of Makapansgat, the MCSA was denied admission for almost twenty years. However, access to Makapansgat has recently been granted based on the goodwill of the Limpopo Provincial Government following hard work by the MCSA JHB Section. Access is granted on the following conditions: 1.Only MCSA members and guests allowed. Each party must have at least one MCSA member. 2. Before visiting, phone: JT Mmako, Site Manager Makapan Valley World Heritage Site on 015 293 8443 to confirm your attendance. Please note: Neil Margetts has a copy of an agreement letter between the Limpopo Provincial Government and MCSA granting access. Contact Neil on info@saclimbingacademy.co.za 3. No bolting allowed. 4. No littering, including cigarette butts. 5. No unnecessary damage to plants. 6. No animals, including dogs.
Approximate travelling time from Johannesburg
Three to three and a half hours.
Shady parking available about 10 to 15 minutes walk from camping
It's a 10 to 15 minutes walk to the base of the climbs from the campsite, with no path. From the parking walk North West up to a shallow neck, then walk North past a tall old Aloe and down through scrubby thorn trees until you run out of ground at the cliffs.
The campsite is about 10 to 15 minutes walk from where cars are parked. Camping is right on the lip of the cliffs, offering many superb spots.
Availability of water for drinking
The river is perennial but the water quality is not guaranteed. If you're worried its best to take your own water.
Hector Pringle: 'Makapansgat – a Climber's Guide to Limpopo Cragging, South Africa', available online: www.climb.co.za Makapansgat.
There are 5 climbing areas with a range of multi and single pitch routes:· The Gulley: 20 to 50 metres high, 16 climbs ranging between grades 9 and 22, in the shade. Twin Cracks: 50 to 100 metres high, 7 climbs ranging between grades 16 and 19, north facing so in the sun.· Waterfall Area, Left: 70 metres high, 1 climb, a grade 19, north facing so in the sun. ·Waterfall Area, Right: 50 to 80 metres high, 4 climbs ranging between 17 and 23, east facing so gets morning sun.· Jackal Pinnacle: 20 to 60 metres high, 13 climbs ranging between 15 and 22, east facing so gets morning sun, though many of the shorter routes are in the shade.
Not suitable for young children as camping is within 5 metres of cliff edge.
Fires are allowed but bring your own wood and keep fires controlled.
Wild and beautiful setting, deep pools and high waterfalls.
Mountaineering (climbing and hiking) is de facto an activity which carries certain inherent risks. Neither the MCSA, nor any of its members or representatives accept responsibility for any deaths, injury or illness sustained or suffered by any person or for any theft, loss or damage to any property that result from participation in MCSA activities, no matter in what manner caused and whether allegedly due to negligence or not.