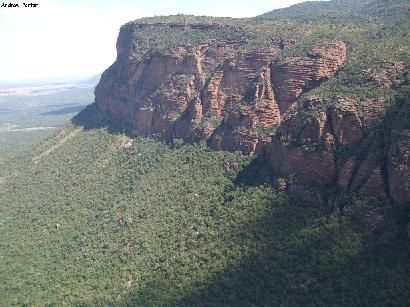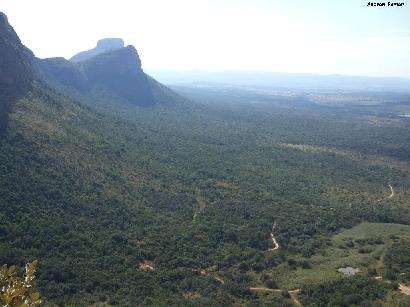 A multi-pitch trad climbing area with 20 climbs between grades 14 and 22 in Entabeni, a big 5 game reserve. The area is typically accessed from the Hanglip North camp site.
Written permission from Entabeni Game Reserve is required.
Approximate travelling time from Johannesburg
3 ½ hours to gate and ½ hour from gate to drop off.
Park at Entabeni Game Reserve entrance. Climbers will be driven by Entabeni staff to the start of the climb and collected again in the afternoon. No fees charged.
The walk from the drop-off to climbs is half to one hour for most climbs.
No camping possible at present. Accommodation in the Entabeni Game Reserve is an expensive option.
Availability of water for drinking
All water for the day to be brought in.
RD available from MCSA Jhb Administrator, otherwise contact Ulrike Kiefer for a scanned copy.
There are 20 recorded multi-pitch trad climbs at Hanglip South between grades 14 to 22 and 200 to 300 metres in length. Climbs are mostly in the sun, though some are in shade. Descend by walking off via various gullies.
Not suitable for children, as there's no camping and hiking is a problem.
Pristine bushveld and big 5 game park. Game can be viewed during the drive to the crags.
Mountaineering (climbing and hiking) is de facto an activity which carries certain inherent risks. Neither the MCSA, nor any of its members or representatives accept responsibility for any deaths, injury or illness sustained or suffered by any person or for any theft, loss or damage to any property that result from participation in MCSA activities, no matter in what manner caused and whether allegedly due to negligence or not.