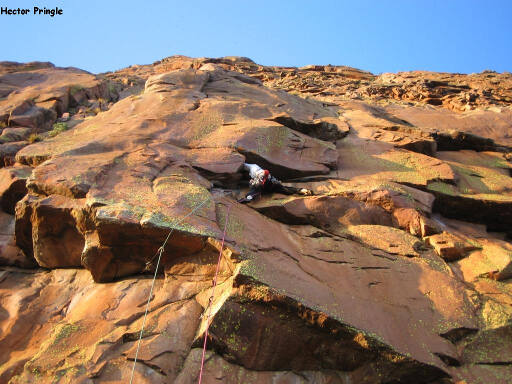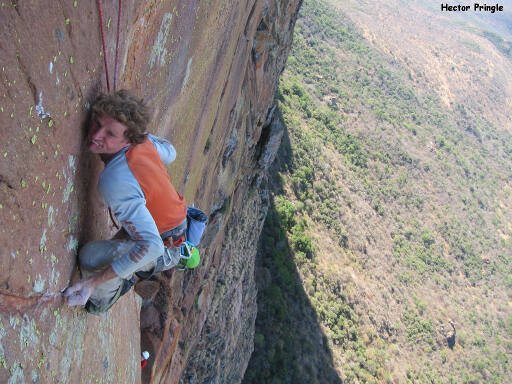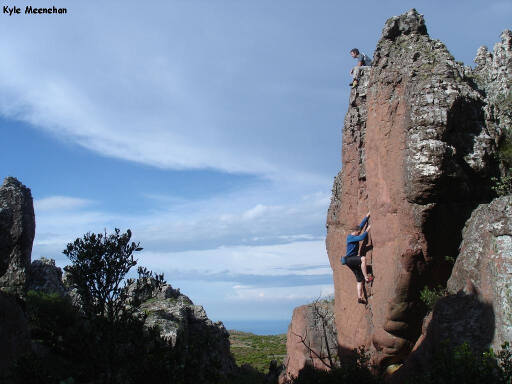 Climbing the huge (up to 350 metres) walls of Blouberg is an adventure generally undertaken by experienced traditional climbers wishing to put their abilities to the test. Stamina, strength and good orientation skills are required just to get to the base of the climbs of this remote, majestic venue, while the climbing itself can be mentally and technically very challenging. Joining a meet to Blouberg is an opportunity for club members to access some of the best that traditional climbing has to offer while avoiding some of the walk –in "epics" that have become part of MCSA folklore.
Blouberg forms part of a tribal trust owned by the Hananwa tribe. Currently there is no permit system in place and the only payment required is for secure parking at Frans' Kraal.
Approximate travelling time from Johannesburg
Secure parking is in a rural village at the foothills of Blouberg at what has become known as Frans' kraal, see GPS co-ordinates in Hector Pringle's online route guide. Please note that Isaac is the only person to speak to regarding where to park and parking fee (R40 per night at 5 Feb 2019).
Many climbers have had the unenviable experience of enduring the long drive to Blouberg only to spend the weekend getting lost in a maze of mountain-slope foot paths. To avoid a similar fate make sure you are accompanied by someone who knows the right paths. Even so, the hiking is tough and steep and will take an average of 4-5 hours.
Overnighting in Blouberg is either in a cave or camping near a stream on the plateau. The cave can sleep up to 6 comfortably and has the advantage of not having to lug a tent up the steep hike, though it can get overcrowded at times.
Availability of water for drinking
Water on the plateau is generally available year-round though it's advisable to bring some water along for the hike. Chlorine pills or good filters may be a good idea for dry winter months.
Although Blouberg has many shorter routes, and endless bouldering possibilities, multi-pitch traditional climbing, especially on the North Wall, is what it's all about. This NE facing wall can get extremely hot or cold during different times of the year, though it is mostly very hot while in the sun (until 13:00 in summer and later in winter). Make sure to pack enough water and sun block in your day pack. The routes are long, technically challenging with the added mental challenge of being on a remote, exposed piece of rock in the middle of nowhere. Irrespective of the grade you choose to climb, be prepared for your skills to be tested, at least until you become more familiar with the rock / setting. Once on top of Blouberg there is still an hour's hike down the descent gully, aptly named The Maze, to be negotiated. As mentioned previously, it is best to tag along with someone who has done it all before.
Some pools in the plateau stream are suitable for dips – especially after summer rains.
Fires are strictly forbidden.
Hiking on the hill is very scenic, wild and remote. Blouberg is a special place to explore, with amazing boulder fields and spectacular views. One can also hike completely around the mountain.
Make sure you have a charged cell phone in your day pack with emergency numbers (see contacts below). There is good reception for all major networks on the North Wall, as well as on various parts of the mountain.
Mountaineering (climbing and hiking) is de facto an activity which carries certain inherent risks. Neither the MCSA, nor any of its members or representatives accept responsibility for any deaths, injury or illness sustained or suffered by any person or for any theft, loss or damage to any property that result from participation in MCSA activities, no matter in what manner caused and whether allegedly due to negligence or not.