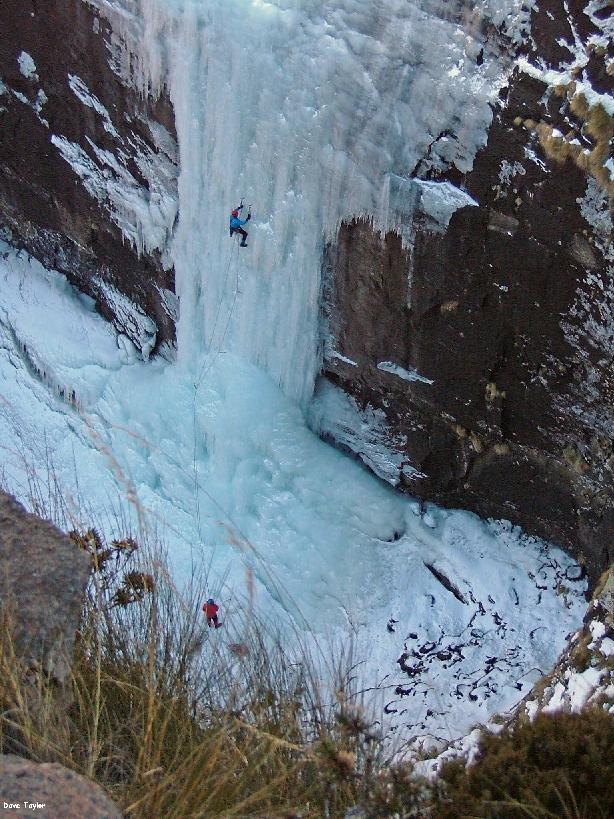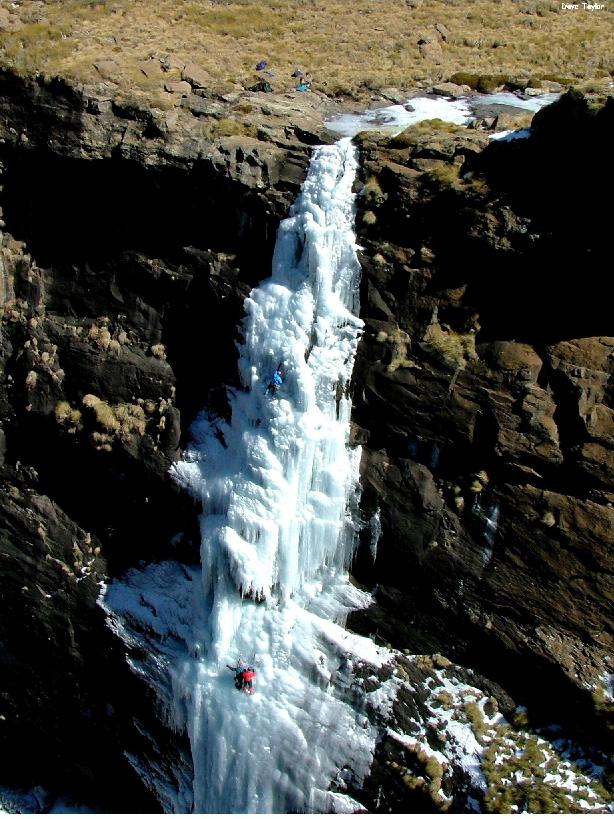 Ice climbing meets in Lesotho take place either in the Central (Bokong) or Northern (Oxbow) Maluti Mountains between mid/late June to early August, conditions permitting. Novice ice climbers have an opportunity to experiment with ice-climbing tools and techniques on anything from short ice falls (boulder problems) to long multi-pitch routes. For more experienced climbers there are more technically challenging routes, some up to 60 metres long.
No specific permits are required.
Approximate travelling time from Johannesburg
Parking for the various Oxbow crags, except the main Oxbow Ice Fall, is on the road between Afriski and Sani Pass. This is a very rural, poor area and although no break-ins have been experienced by climbers, it is important not to leave tempting valuables in the car. Parking for Bokong is in the Bokong Nature Reserve car park and is considered fairly safe.
Walking in to all the ice climbing venues is generally flat and easy, except for Bokong where the terrain is a little steeper, yet still easy. Caution should still be taken, however, as sections along the walk-ins will be frozen and slippery.
Bokong Climbers can sleep on the floor at the Visitors' Centre (toilets but no shower) which has spectacular views of the Lepaqoa Falls, or in one of the two hikers' huts right by the Falls (kitchenette and ablution facilities). See: www.golesotho.co.za It is important to note that the Visitors Centre is a functioning office and restaurant, climbers need to respect this and leave the Centre before opening hour and in the same state they found it in. The restaurant's kitchen and cooking equipment is off limits to climbers. Oxbow A number of accommodation options exist. Climbers can stay at the Oxbow Lodge, the Afriski Resort, or at the cheaper Camel Rock Guest Farm, which is on the SA side of the Calendonspoort border post, see the following links for info: Oxbow Lodge: www.oxbow.co.za  Afriski: www.afriski.net accommodation Camel Rock: www.camelroc.co.za
Availability of water for drinking
Water is available at accommodation.
Bokong There are 3 main climbs with various, shorter and more easily accessible options in the vicinity: The 60 metre Lapaqoa Falls (grade WI5) is the obvious challenge for more experienced climbers when it is in good condition. The Siberian Enema (WI5 M3) is a 15 metre route that forms at the top of the cliff to the right of Lapagoa Falls. Moonlight Alien (WI2-WI4) is about a 20 minute hike up the valley from Lapaqoa Falls. The basin at the base of the Lapaqoa Falls provides numerous opportunities to play on WI from grade 2 to 4. Oxbow Most of the routes in this area are accessible by car followed by a short walk. They range from short boulder-like problems to 60 metre routes. OxbowValley (WI3) is a 60 metre, 2 pitch route in the valley just after the new Oxbow Lodge. It forms most seasons and there are some good ice slabs for beginners to climb to the right of the main fall. The Main Oxbow Ice Fall is a popular 20 metre formation in the valley above the Club Maluti ski lodge. It has a couple of variations (WI3-WI4) and the ice slabs below make for excellent training for beginners. The Amphitheatre offers short formations (3-10 metres) to the right of the main Oxbow ice fall. Grades range from WI2-WI4 but it hasn't formed for the past few years due to temperature fluctuations. Oxbow Bouldering is a short drive from the Afriski entrance on the right side. It forms most seasons and offers fun short ice problems and easy slabs which are ideal for beginners to experiment with equipment and mixed climbing.
More suitable for teenagers than children. Make sure your teens are well kitted with adequate cold and protective gear.
Skiing at the Afriski resort is almost as much fun as ice climbing. The Bokong Nature Reserve is a haven for hikers with hiking camps and trails ranging from 45 minutes to 3 days. The unique afro-alpine environment and its associated wetlands are of great biological interest, giving rise to an amazing variety of flora and fauna. Birders are sure to be satisfied with the many species endemic to the afro-alpine zone. For the more adventurous, Basotho pony rides offer a fun way of interacting with the environment. For those with a more cultural / historical interest, there are ruins of ancient kraals and bushman paintings in surrounding rock shelters.
Ice climbing conditions in Lesotho can be very variable, which is why it's important to have experienced ice climbers in your group. Falling ice can be extremely dangerous so make sure no one approaches the climbs without wearing a helmet and ensure that first aid kits are always on hand.
Mountaineering (climbing and hiking) is de facto an activity which carries certain inherent risks. Neither the MCSA, nor any of its members or representatives accept responsibility for any deaths, injury or illness sustained or suffered by any person or for any theft, loss or damage to any property that result from participation in MCSA activities, no matter in what manner caused and whether allegedly due to negligence or not.