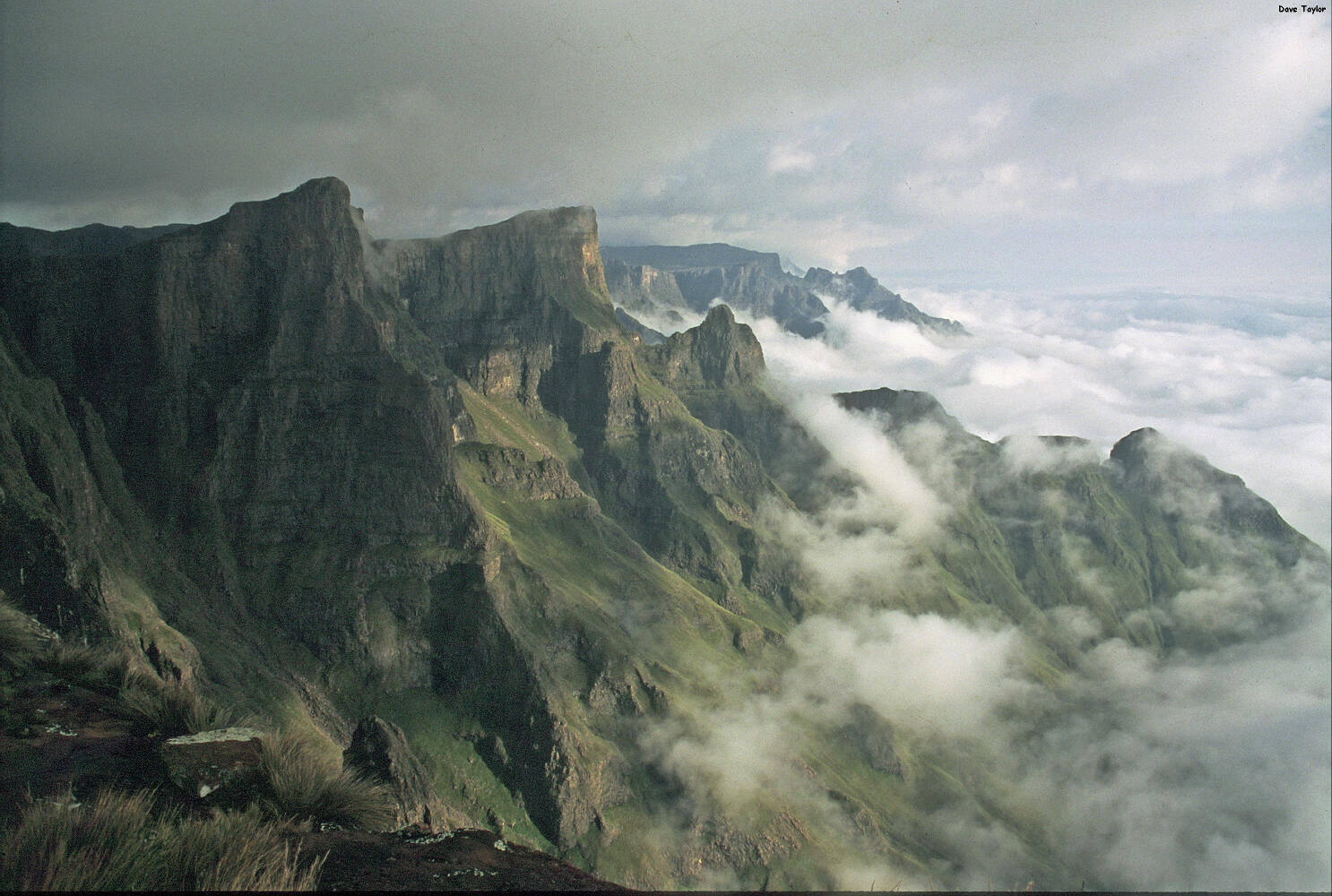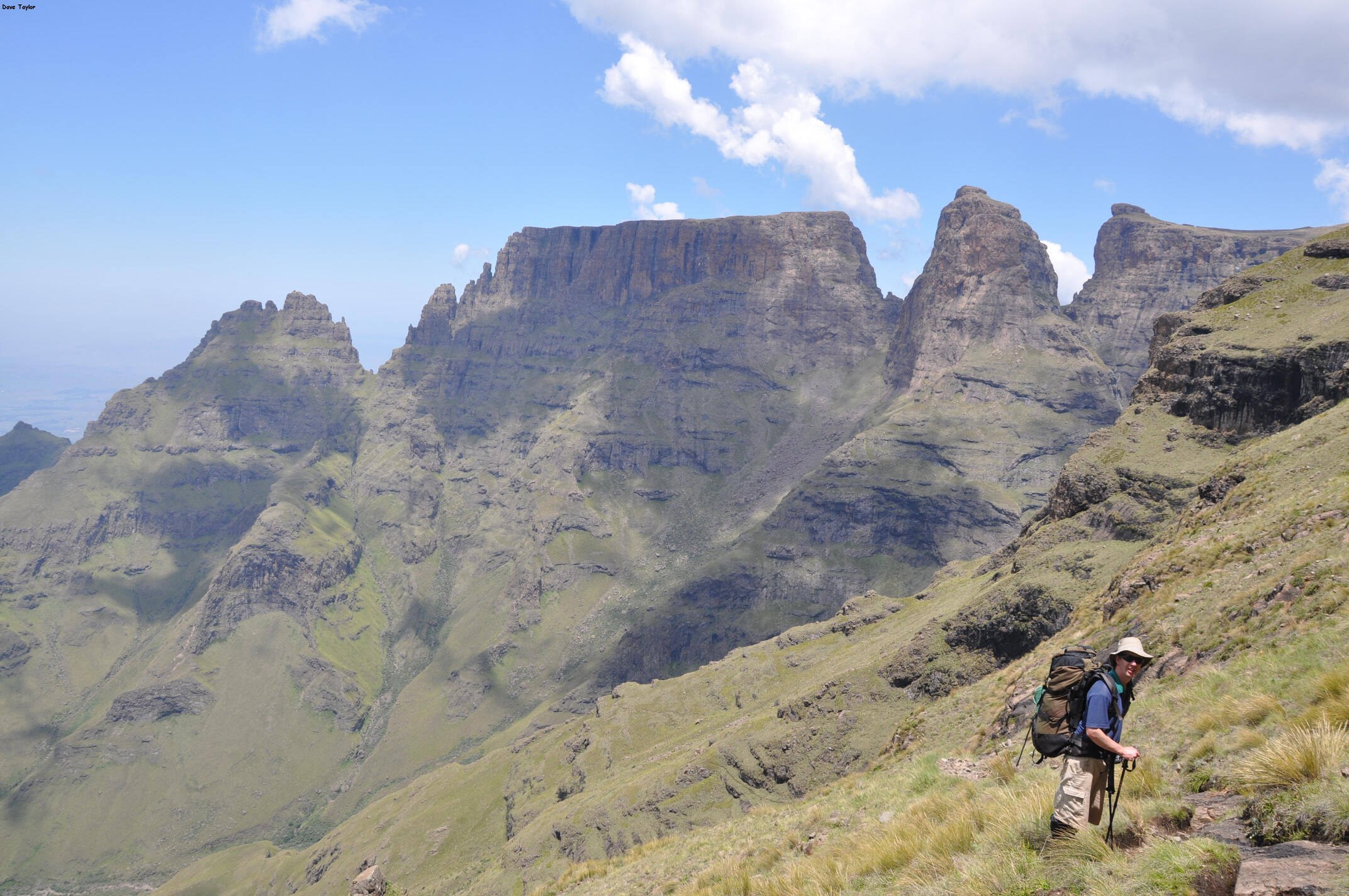 Drakensberg climbing is strictly trad (though there are a couple of bolted routes in the Berg) and its objectives are usually to attain a summit, not for the actual climb. The climb is often the last 5% of the total effort, the rest being the walk-up.
Entry and permit is through one of the KwaZulu Natal Parks Gates.
Approximate travelling time from Johannesburg
Parking is usually at the KZN Parks reception areas and is reasonably safe. The cost is part of the entry fee, currently (2012) R50 per night.
A typical walk up to one of the popular peaks is anything from 3 to 8 hours. It is usually quite strenuous, made more so by the weight of climbing and overnight gear.
Accommodation is most often in caves but sometimes tents or bivvy bags need to be taken. Bookings for climbs are not needed, though caves can be booked.
Availability of water for drinking
Water is generally available and drinkable throughout the Berg but is scarce near caves.
The KZN Section of the MCSA has published a comprehensive route guide, Rock and Ice Climbs of Drakensberg, which is available from them, see http://kzn.mcsa.org.za.
While there are many less known routes, the ten classic Berg routes are: The North Face Route on Sentinel Peak (also called the Angus-Leppan Route). Devil's Tooth. Mponjwana, Standard Route. The Bell, Hooper's Route. The Pyramid, Standard Route. The Column, Escarpment Arête. The Monk's Cowl, Standard and Barry's Route. The Injasuti Western Triplet, North West Ridge Route. Giant's Castle, Schole's Route. Giant's Castle, Makaza and the Main Loteni Couloir (ice routes). The rock quality is generally bad, with North facing routes worse than South facing ones. See the route guide for specific details. Most of the popular peaks have fixed abseil anchors. The length of climbs ranges from single pitch upwards. Grades start from about 13. Protection placements are not good and sometimes almost non-existent.
Drakensberg climbing is an acquired taste, but like no other climbing for excitement and a sense of mountaineering achievement.
Some mountaineering sense and experience is needed as conditions can deteriorate and become quite dangerous. Always take good clothes, helmets and torches on the climb. Local herders and travellers will steal anything left out, sometimes while you are there. Always hide your gear away from paths and local traffic routes.
Ask around the Club for someone who has done the route before, if you feel you need more information. Make booking through the KwaZulu Natal Parks: www.kznwildlife.com.
The KwaZulu Natal MCSA website has info on climbing in the Berg: kzn.mcsa.org.za.
Mountaineering (climbing and hiking) is de facto an activity which carries certain inherent risks. Neither the MCSA, nor any of its members or representatives accept responsibility for any deaths, injury or illness sustained or suffered by any person or for any theft, loss or damage to any property that result from participation in MCSA activities, no matter in what manner caused and whether allegedly due to negligence or not.