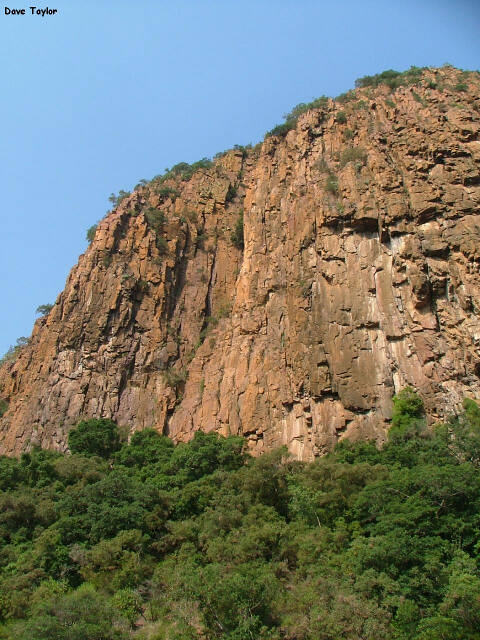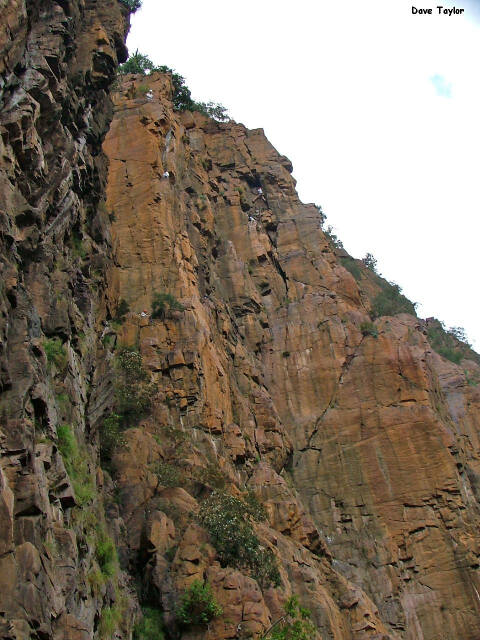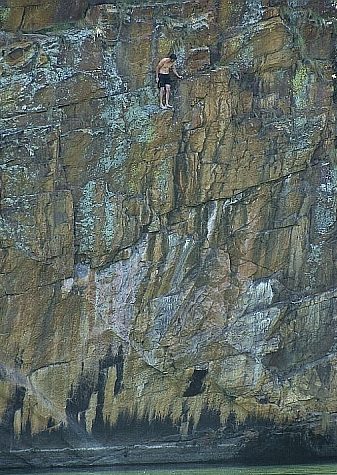 Wilgepoort is a trad climbing area just over two hours' drive from Johannesburg, which was discovered in 1966 and subsequently developed. The crag itself is in the picturesque Gouwsberg Valley on the banks of the Wilge River. Whilst appearing to be quite a small crag, it surprises one by having a significant number of high quality lines of up to 4 solid pitches. The crag is North facing and gets very hot in Summer, making it an excellent Winter crag. The property is now owned by MCSA, having been purchased in 2013.
Adults: R80 per person per day. Other (students, pensioners etc>): R40 per person per day.
Kids <14: R20 per person per day, to be paid to the MCSA Magaliesberg Administrator. – Contact admin@mag.mcsa.org.za .
The access gate has a combination gate lock, the number being given at time of booking.
Once a booking has been made, it is advisable to phone Andre, the tenant farmer at Cell: 082 388 3087.
Approximate travelling time from Johannesburg
Approximately 2¼ hours drive from Johannesburg off the R25 road from Bronkhorstspruit to Groblersdal.
Plenty of safe parking available.
Access from the car park to the crag is about a 25-30 minute walk. The cliffside is a steep tricky grassy slope and exposed, so it is protected by a wire that can be clipped onto. When the river is low, the tricky bit is by-passed by crossing and re-crossing the river.y bit is by-passed by crossing and re-crossing the river.
Car camping in the bush. At night, in winter, it can get quite cold, so a warm sleeping bag is necessary. Longdrop at camp-site.
Availability of water for drinking
Bring your own water, as you don't want to drink the river water.
The MCSA has developed a route guide, which is available from the JHB
office: Alternatively there's an online guide, see: www.saclimb.co.za
The rock comprises weathered Waterberg sedimentary rock of excellent quality. There are about 40 traditional routes ranging between grades 14 to 24 and consisting of 3-5 pitches in length. Most routes follow cracks, open books, grooves and chimneys, a standard trad rack, supplemented by additional camming devices is usually sufficient. There are some routes which feature bolts and pegs, however no route is entirely protected in this way so be prepared to place gear. The crag is North facing, so in full sun, making it an ideal Winter climbing venue. There is some loose rock at the top of some routes, so wear a helmet. Descents involve abseiling if climbing on the right or walking off if climbing on the left. Note: Climbing is not allowed on the separate Western crag (known as The Pillar of Eros and situated 800 metres upstream of the Main crag) during the Black Eagle nesting season (April to Mid- November). At present, there are no sports routes though this is being considered along with slackline anchors near the waterfall. Any bolted routes must be in addition to, and in a separate area from the existing trad routes
Although the river water is unsuitable for drinking, a dip in the river or the big pool close to the campsite is most refreshing.
Yes, at the camp-site; there is wood available, though it is becoming advisable to bring your own.
The crags are located in an area of wild, African scenic beauty; it is not uncommon to see a pair of Black Eagles, the resident Gymnogene, Giant Kingfishers and otters fishing in the Big Pool. There is scope for some good hiking up the Wilge River and behind the crag. Alternatively, one can just relax beside the river with a book.
No security issues to date. Wilgepoort is known for rock falls – wear a helmet, take care and climb with a cell phone. Hippo has been seen in the pool near the camp-site, but apparently lives further downstream.
For bookings, permits and the access gate lock combination, contact the MCSA Magaliesberg Section – admin@mag.mcsa.org.za
Once a booking has been made, it is advisable to contact:
Andre, the tenant farmer Cell: 082 388 3087.
Mountaineering (climbing and hiking) is de facto an activity which carries certain inherent risks. Neither the MCSA, nor any of its members or representatives accept responsibility for any deaths, injury or illness sustained or suffered by any person or for any theft, loss or damage to any property that result from participation in MCSA activities, no matter in what manner caused and whether allegedly due to negligence or not.