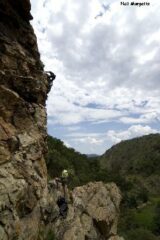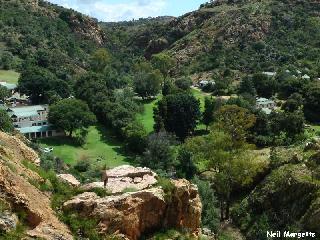 King's Kloof is a sport climbing area located on unspoilt private land in Rocky Valley, near Krugersdorp. Its sunny orientation makes it an ideal winter day crag, though shady spots can be found in summer. The routes are mostly suitable for beginners / intermediate climbers, with uneven terrain making some of the belaying tricky – look out for the conveniently placed belay safety bolts. A 60 metre rope and 12 quickdraws will get you up all the routes.
On arrival climbers must book in with Derek Schneider, Rocky Valley's manager, Cell: 083 326 8618.
You'll have to sign an indemnity form and pay R30 per person for the day. The land is owned by religious organisations so please ensure that you abide by the rules specified in the route guide to ensure long-term access to this venue.
Approximate travelling time from Johannesburg
Parking is by the Achterbergh gate, on either side of the road just before the bridge or over the bridge once it is completed.
Climbing is within easy walking access from the parking area.
Accommodation is available, for bookings contact Derek Schneider at Rocky Valley, Cell: 0833268618, or Betsie Slippers at Achterbergh, Tel: 011 954 5533.
No camping is allowed.
Availability of water for drinking
At present there are over 20 fully equipped sport routes ranging in length from 5 – 30 metres and in grade from 12 to the high 20s. Most routes are in the beginner/ intermediate range.
Some of the belay ground is very uneven so not suitable for toddlers.
There is a river, use your discretion.
Mountaineering (climbing and hiking) is de facto an activity which carries certain inherent risks. Neither the MCSA, nor any of its members or representatives accept responsibility for any deaths, injury or illness sustained or suffered by any person or for any theft, loss or damage to any property that result from participation in MCSA activities, no matter in what manner caused and whether allegedly due to negligence or not.