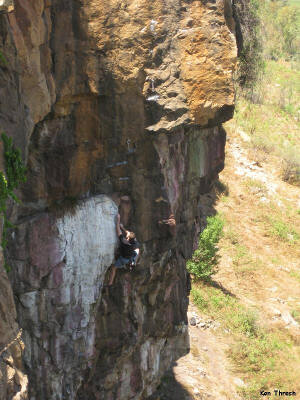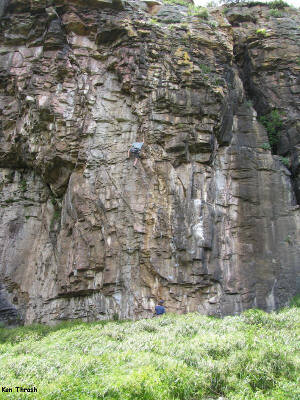 Bronkies is a single, long crag above the Bronkhorstspruit River. It offers more than 60 bolted sport routes in the easy to moderate range in a pleasant, family-friendly setting. In Summer the routes go into the sun after lunch time, so don't leave home without sun block.
The Bronkies crag and parking are on private property and the owners reserve the right of admission. The MCSA has negotiated access to the area for members over weekends and public holidays. Upon arrival visitors must pay the entrance fee and sign the visitors' book, which has the MCSA logo. Entrance fees are R 40 cash for adults, R 20 cash for children between 13-18 years, and R 10 for children aged 12 and below, payable to the guard at the crag or the entrance road.
Approximate travelling time from Johannesburg
As of late 2011, access is via a new road that branches off the tar road on the right and then proceeds directly down to a large parking area. From here the crag is accessed by crossing a bridge and walking uphill to reach the East end of the crag.
Access to the crag from the parking area is very easy – 5 to 10 minutes.
Bronkies is a day crag. No overnight stays are permitted.
Availability of water for drinking
Water from the river is not drinkable, so make sure you bring enough water for a day's outing
There are 65 fully bolted lines ranging in height from 10 – 30 metres and in grade from 11 to 27. Some of the harder routes tend to remain partially wet throughout Summer due to seepage. Although some potential for new routes exists, there is a strict no-bolting policy in place in the area either side of the Black Eagles' nest. Almost the entire climbing wall goes into the sun from around lunch time in summer, so sun block and hats are strongly recommended.
Bronkies is an ideal venue for children.
Swimming in the river is not recommended.
Strictly no fires allowed.
Being on the river means great birding opportunities.
Mountaineering (climbing and hiking) is de facto an activity which carries certain inherent risks. Neither the MCSA, nor any of its members or representatives accept responsibility for any deaths, injury or illness sustained or suffered by any person or for any theft, loss or damage to any property that result from participation in MCSA activities, no matter in what manner caused and whether allegedly due to negligence or not.