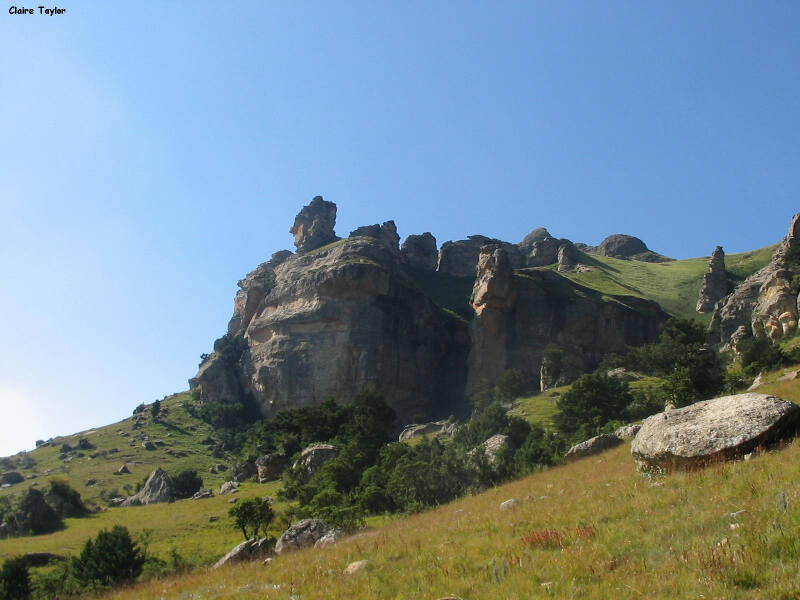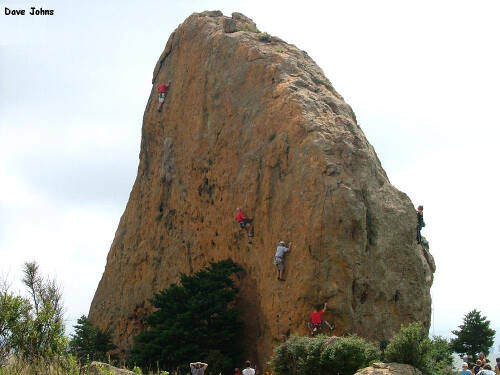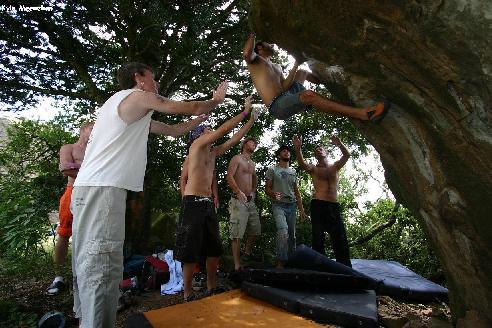 Climbing, bouldering and hiking at Swinburne is in the scenic area around Rensburgkop, just off the N3 highway, South of Harrismith. Climbers are able to enjoy a rare combination of trad routes, good quality bouldering, sport climbing and multi-pitch bolted lines – all at the same venue. Access to the crags and boulders is on private property which is shared by the Bald Ibis Wilderness Hiking Trail.
Approximate travelling time from Johannesburg
About 2.5 to 3.5 hours depending on where in Johannesburg you stay.
Secure parking is available at the accommodation area.
Walk in times vary. Some of the boulders are less than a minute away from the accommodation, while the impressive multi-pitch lines on Rensburgkop are a steep 30 minutes hike away.
A few options exist for accommodation: There is a barn which sleeps up to 25 people, costing R60 per person per night. It consists of bunk beds, a gas stove, a fridge, firewood, hot water, hot showers and electricity (Note: You may have to light your own fire for hot water). You can also stay in the old farmhouse, which is fully equipped, for R120 per person per night. There are also rooms sleeping two with private ablutions, bedding, kettle etc. also at R120 per person per night.
Availability of water for drinking
Water is available at the accommodation area.
Swinburne has almost 200 bouldering routes ranging between grade V0 (3) and V10 (7C+) on many boulders scattered throughout the area – so there's always sun or shade available. In addition, there are almost a 100 recorded climbing routes, including trad, single pitch and multi-pitch sport climbs up the majestic Rensburgkop.
No camp fires – braaing facilities available.
Swinburne has a number of short, very scenic hikes, as well as the 2-day Bald Ibis Wilderness Trail, which passes a massive San cave where some paintings have survived – it's possible to walk part of this trail. Less than 2 kilometres from the accommodation area is a vulture restaurant with a natural hide. Raptors that breed on Rensburgkop include Cape vultures, Crown and Black eagles while Bald ibis and Abdim storks are plentiful. There's also plenty of challenging terrain for mountain bikers.
The soft nature of the sandstone rock at Swinburne means that chunks of rock can – and do- break off. It is therefore highly recommended to wear a helmet for both belaying and lead climbing. Swinburne is within a few kilometres of the Drakensburg escarpment which makes the weather very unpredictable. As a result it can get hot, cold, windy, misty or even snowy all in a day. It is important to plan accordingly – bring both Summer and Winter clothing.
R90 pppn – Barn (backpacker-style accommodation, bring own linen).
R80 pppn for camping. R200 pppn for a double room (min 2 nights)
R00 pppn in the house (min 2 nights). R50 pp for day visitors.Contact Annelie Morrison: appingguestfarm@gmail.com or on 072 401 6711.
She prefers to be WhatsApped or phoned.
A rock climbing guide is available at www.climbing.co.za (March 2017)
Mountaineering (climbing and hiking) is de facto an activity which carries certain inherent risks. Neither the MCSA, nor any of its members or representatives accept responsibility for any deaths, injury or illness sustained or suffered by any person or for any theft, loss or damage to any property that result from participation in MCSA activities, no matter in what manner caused and whether allegedly due to negligence or not.